Golf Carts Everywhere
Golf Carts on Parade for Halloween
First place Golf Carts prize in the 2016 Fall Festival were the Messenger's with their spooky skeleton crew.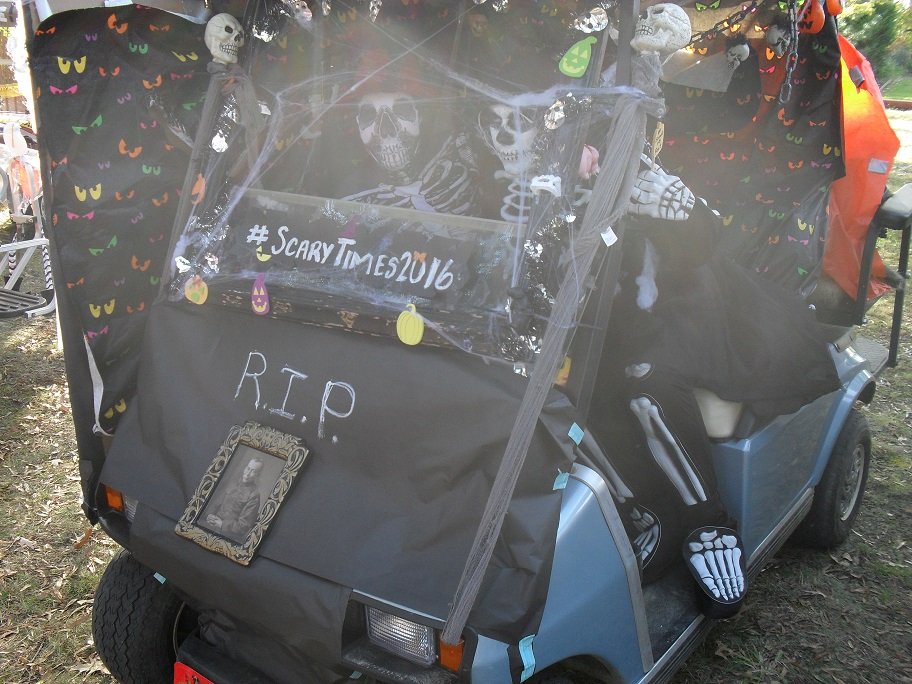 Tiara's photo booth entry earned her a second place trophy.
Chris the Pirate and his ship took home the 3rd Place prize.
---
I ran down to Town Hill just before 5pm to get some pictures and I'm so glad I did! The rains came and as I ran back to my car, then later driving away back down Colonial Avenue, I saw some die-hard fans under umbrellas waiting for the parade to start.
2009 marked the 7th Annual Halloween Parade and not only was there a contest for best-decorated, the event also featured a 50/50 raffle and bake sale. Sponsored by Chamber of Commerce, the proceeds from the event went towards a good cause, the Hume-Lee Kidney Transplant Center at VCU in Richmond.
Local radio station WGRQ showed up with their van and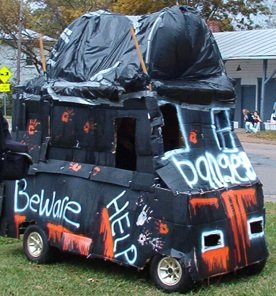 "Beware" of the rain. Luckily, this entry had more protection from the elements than most of the others.
Following the Yellow Brick Road.
A Zoo on wheels.
Miss Colonial Beach's cart lights it up.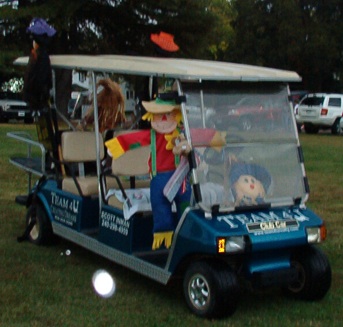 Team 4U with their fall-themed entry. The white spot you see is a reflection of a raindrop on the lens.
2011's Parade took place on Saturday, October 22nd

2012 Parade Winners:
1st place - Chariot of Death by Vicky Enos
2nd place - Beside the Point by Brian & Susan Mack
3rd place - Scooby Doo's Mystery Machine by Katina Broon
4th place - Candy Shop by Girl Scout Troop 3212
Custom Cartz co-sponsored the event and gift certificates for the prize winners were donated by Beach Service Center, Dockside Restaurant, Denson's Grocery and Custom Cartz.
Read more about Golf Carts in Colonial Beach
Return from Golf Carts around Town to Home