Book it to the Colonial Beach Library
See Library Hours, below
Colonial Beach 's library is a 4,700 square foot facility with over 24,000 items formally known as the Abraham and William Cooper Memorial Branch. Designed by The Lukmire Partnership of Arlington, Virginia, it was funded by a donation from the Douglas Cooper Family and by FOTL fundraising activities.
Starting out in 1972 in a church basement, it moved to a location on Hawthorn Street five years later and in 2000, it moved to it's present location on Washington Avenue.
The facility sometimes doubles as a driver improvement course test site, thanks to the availability of a classroom onsite. It also offers things like computer classes, kids, teen and adult movie nights, children's storytime, afternoon tea and game nights. Check their events calendar for dates and times.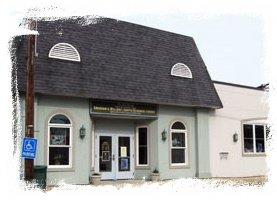 Facilities include:
Nine public-access computers
Meeting room with a seating capacity of 30

Public art displays in the meeting room hallway
Notary Public onsite (but call ahead to confirm availability)

Abraham and William Cooper Memorial Branch
20 Washington Avenue

Colonial Beach, VA 22443-2337

804-224-0921

Hours of operation:
Monday 9-1
Tuesday 1-9
Wednesday 1-9
Thursday 1-5
Friday 9-1
Saturday 9-1
Sunday Closed

There's plenty of free parking, as well as transit service, so come on down!

Return from Library to Things to Do 

Return from to Colonial-Beach-Virginia-Attractions Home