Jetski Competition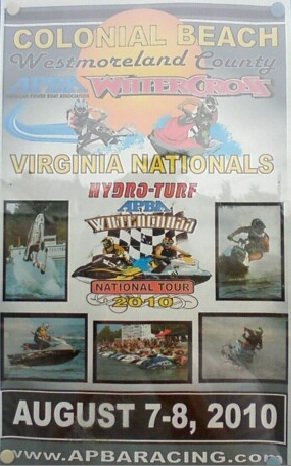 "Colonial Beach Waterfest" is a name for the jetski competition that will be making a stop in our town on August 7 & 8, 2010. The APBA is the organizer of this event, which is Round 9 and 10 of an 11-round series. It's been a few years since we have seen personal watercraft races here of any kind, so it's highly anticipated, especially a larger National series like this one.
There's a pre-race kick-off party Friday on Town Hill starting at 5pm with live music by Old School. Racing begins on Saturday. That night there's a racer's party at High Tides' "Black Pearl" Tiki Bar with live music by tribute band Think Pink Floyd. Racing continues on Sunday!
For the full jetski competition schedule and event traffic and parking information, click here.
---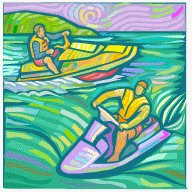 It was August 26, 2001. The jetski competition descended on Colonial Beach for a great day of personal watercraft (PWC) racing.
The event, organized by Watersport Productions was sanctioned by the ISJBA (International Jet Sports Boating Association), an international jetski competition and PWC racing membership organization and sanctioning body for personal watercraft racing.

This Mid-Atlantic Watercross Tour saw a number of competitors run this Region 8 event.
RESULTS
Beginner Runabout: 1-Scott Morrison Jr. 2-Tim Haines 3-Todd Esponca 4-Michael Misicnowyrz 


Novice Veterans Ski: 1-Todd Young 2-Rick Calhoun 3-Jeff Binzen 4-Jeffery Earls 


Novice Ski Limited: 1-Todd Young 2-Rick Calhoun 3-Jeff Binzen 4-Barry Ault 5-Jeffery Earls 


Novice Ski Superstock: 1-Todd Young 2-Rick Calhoun 3-Jeffery Binzen 


Novice Sport Superstock: 1-Bill Amoss, Jr. 


Novice Runabout 785 Stock: 1-Tres Haase 2-Michael Kline 3-Jason Kiss 


Novice Runabout 785 Limited: 1-Matt Phenes 2-Michael Phenes 3-Michael Kline 4-Tres Haase 


Novice Runabout 785 Superstock: 1-Phil Wilcox 2-Travis Dill 


Novice Runabout 1200 Stock: 1-Michael Kline 2-Billy Lese 3-Frank Talarico 4-Bill Amoss Jr. 5-Tim Haines 6-Thad Sukawski 


Novice Runabout 1200 Limited: 1-Scott Robinson 2-Frank Talarico 3-Kevin Weyant 4-Michael Kline 5-Alexander Yates 


Novice Runabout 1200 Superstock: 1-Mike Weaver 2-Travis Dill 3-Kevin Weyant 4-Alexander Yates 


Amateur Veterans Runabout: 1-Bryan Bock 2-Mike Weaver 3-Stewart Possinger 


Amateur Veterans Runabout 40+: 1-Stewart Possinger 


Expert Veterans Ski: 1-Don Morningstar 2-Todd Schaefer 3-Chip Long 4-Rick Witherow 


Expert Ski Limited: 1-Don Morningstar 2-Dale Gray 3-Stacey Stauffer 


Expert Ski Superstock: 1-Don Morningstar 2-Todd Schaefer 3-Chip Long 4-Rick Witherow 5-Stacey Stauffer 6-John Gould 


Expert Runabout 785 Superstock: 1-Stephen New 2-Eric Latusek 


Expert Runabout 1200 Superstock: 1-Ryan Redmond 


Pro-Am Sport: 1-Stewart Possinger 2-Scott McKenna 


Pro Ski: 1-Mike Kelberer 


Pro Runabout 1200: 1-John Dietz 2-Brian Sutphin 


Blaster Class: 1-Jason Palmer 


Endurance Veterans: 1-Michael Misianawyez 2-Mike Cox 3-Glenn Padgett 4-Dutch Sanger 


Endurance 785 Stock: 1-Jason Kish 2-Beshka Rose 3-Glenn Padgett 


Endurance 785 Superstock: 1-Dutch Sanger 


Endurance 1200 Stock: 1-Vic Anderson 2-Michael Misianawyez 3-Todd Esparza 4-Mike Cox 5-Glenn Padgett 


Endurance 1200 Superstock: 1-Vic Anderson 2-Steve Myers 3-Harold McCanick 


Endurance Team: 1-Barry Ault/Sue Tucker

Return from Jetski Competition to History of Colonial Beach