A Lesson in History Colonial Beach, Virginia
The history Colonial Beach goes like this. In the 19th Century, a bathing and fishing resort existed in what would later be known as the Town of Colonial Beach. Being easily accessible by boat, the Town's location on the Potomac River was an asset during a time when cars weren't around and road travel was slow and restrictive.
Most of the visitors came in by boat from Washington, D.C. to fish from boats and piers and bathe at the mile-long sandy beach. Colonial Beach soon became known as the "Playground on the Potomac." They arrived via steamer ship and later, by plane at airports like the Reno Skypark that operated in the area from the mid-1950's to the mid 1960's.
One of the most important historical events happened twenty-five years after Colonial Beach was founded as a vacation and beach resort. It became an incorporated town, organizing on February 25, 1892. The town flourished as a resort and experienced a building boom of Victorian-era homes, bungalows, summer cottages and grand hotels.
A glimpse into history
Colonial Beach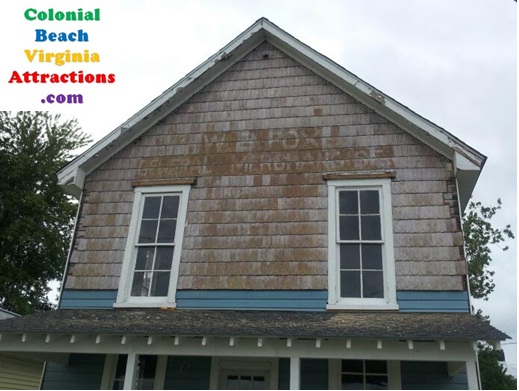 Legalized gambling casinos and travel via automobile to oceanside resorts became increasingly fashionable. Shorter, weekend trips took the place of the extended vacation which formerly kept the big hotels in Colonial Beach filled with guests.
For the past few decades, rapid population growth in the Washington metro has helped Colonial Beach to regain its appeal as a waterfront resort and a favorite vacation destination for many.
HISTORY COLONIAL BEACH: A Timeline
Here's a chronological account of the historical events which have taken place in Colonial Beach.
2020
May 29: Lucy, the beloved goose and mascot of Winkiedoodle Point Marina passes while laying under her favorite tree and gazing out at Monroe Bay.
2014
January 5th: The original Colonial Beach High School building, currently being used as the Elementary School is devoured by fire.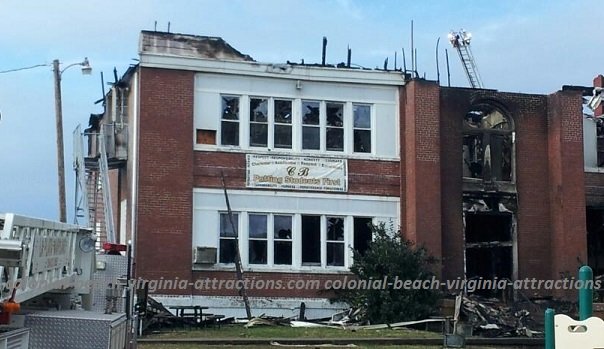 September: 1st Annual Alexander Graham Bell Croquet Tournament is held at The Bell House.
June 9th: Law Enforcement Torch Run for Special Olympics Virginia is held for the first time in Colonial Beach.
May 15th: Northern Neck Strongman Competition is held at Monroe Field sponsored by Colonial Beach High School and the Virginia National Guard.
March 29th: Virginia Cross Country Racing Series (VXCS) holds a race in Colonial Beach. March 13th: Colonial Beach High School Drifters basketball team win State Championships.
Northern Neck Rivermen semi-pro football team is formed, based at Colonial Beach High School
June 16th: Jamestown 400 reenactment of Captain John Smith's 1608 expedition up the Chesapeake Bay. His visit back then was an important historical event in Colonial Beach's past.
April: James Monroe Birthplace Monument opens on Rt. 205 just outside of town.
2005
Colonial Beach Volunteer Fire Department purchases its first tanker, which replaces Engine 11.
2004
Colonial Beach Volunteer Fire Department purchases its first fire boat, a 24-foot Monarch.
Colonial Beach acquires "Golf Cart Town" designation.
2003
Hurricane Isabel
deals a blow, and blows a lot of things over. More photos at
this page
and
here.
2002
April: Colonial Beach Yacht Center suffers major fire damage.
2001
August 26: Watersport Productions holds a Mid-Atlantic Watercross Tour jetski competition
1994
Colonial Beach Historical Society is formed.
1989
September 1: Lunsford Point is dedicated.
1988
September: "New" Colonial Beach High School opens
1987
September 21: The Bell House Bed and Breakfast is placed on the National Register of Historic Places.
1984
The Colonial Beach Hotel is reduced to rubble.
1978
The Beach gets written about in Frederick Tilp's book.
1977
Sun and Suds Boogie Van Show at the Colonial Beach Dragstrip.
1972
March: The Mayfair Theatre at the corner of Washington and Wilder is destroyed by fire.
1967
Colonial Beach Police gets new headquarters, in the old firehouse.
1964
Football program begins at Colonial Beach High School.
1963
August 11: Devastating fire destroys the Beach's Reno and Monte Carlo casinos.
1962
"Oyster Law" is put into place.
1960
August: Virginia State Firemen's Association convention is held in Colonial Beach.
1959
Maryland and Virginia governors reach a compromise over the Oyster Wars.
1958
Virginia persuades Maryland to pull the plug on offshore gambling.
1956
Reno Skypark is constructed on what is currently the Colonial Beach Dragway.
1954
Category 4 Hurricane Hazel, the worst one of the season hits Colonial Beach.
Sept. 28: King Cotton Hotel is gutted by fire.
1953
Blackistone family sells the Colonial Beach Hotel to Delbert Conner.
1950
Colonial Beach Volunteer Rescue Squad is formed.
1949
July 9 & 10 2nd Annual Colonial Beach Regatta.
1948
August: "Field Day" track and field competition held at the high school.
1947
Jazz standard "No Moon At All" is composed in a church in Colonial Beach.
1941
Route 301 Bridge over the Potomac River opens and creates easier access to the Town.
1955
The Westmoreland Motel (currently Riverview Inn) opens on the site of the former DeAtley Hotel on Hawthorn Street with 26 rooms on July 21.
1939
L. L. Curley purchases the 11-month-old "Pete" a black bear from North Carolina who delighted visitors until his death in 1944, when he weighed 600 lbs. He is depicted in a mural on the side of the Curley Packing Co. building at the Monroe Bay Marina on Lafayette Street.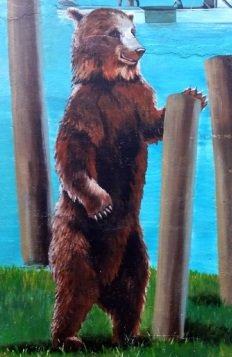 1933
August: Chesapeake and Potomac Hurricane wreaks havoc at Colonial Beach.
1913
1912
The Vernon House suffers major fire damage.
1905
The Tides Inn Bed & Breakfast is built, originally called the SACO House.
1898
First School opens.
1894
March: Colonial Beach Volunteer Fire Department forms.
Colonial Beach Hotel is mentioned in "Where to Stop.": A Guide to the Best Hotels of the World edited by Moses King
1893
Colonial Beach Improvement Company forms to establish a steamboat wharf and summer resort.
1892
February 25: CB incorporates and becomes a Town.
1883
The Bell House is constructed.
1882
October 31: Colonial Beach Indenture
1875
Central House is constructed. It still stands today at 120 Boundary Street.
1873
Steamboat Wawaset catches fire and sinks on the way to Colonial Beach.
1868
Maryland Oyster Navy is established.
1867
The community of Colonial Beach is founded.

History
Colonial Beach has lots of it!
If you have historical events information which is missing from this listing, please let me know so I can include it.
Return from History Colonial Beach to Colonial Beach Virginia Attractions Home