Missing Pets
There's probably nothing more disappointing than missing pets. Owners go through the entire range of emotions, from worry, fear and sadness when they realize their dog or cat is gone, to elation and relief when their pet is safely returned.
Please look over these missing pets listings in our pet-friendly town of Colonial Beach. Hopefully you'll be able to help a frantic pet owner locate their beloved animal companion.
Lost a Pet? Found a Lost Pet? Post it Here!
Please post the missing/found pet information here.
What Other Visitors Have Said
Click below to see contributions from other visitors to this page...

---
Missing! Westmoreland Shores area. Summer has been missing since this afternoon (Wednesday 9/4). We've combed the entire neighborhood and then some. It's not like her to run off and we are really worried and would like our dog to come home. She should be wearing two collars and tags but please call me if you've see her 804-761-9018. She is very friendly.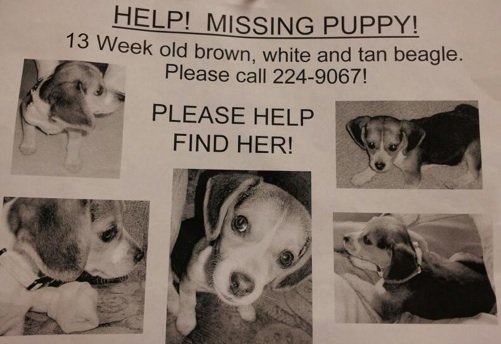 ---
Missing dog: Little Black Chihuahua. Has some white. His name is Chipper. Lost around 5th Street and Dwight. Reward will be given! Please call Sam at 804-761-7035! PLEASE BRING CHIPPER HOME!!!
---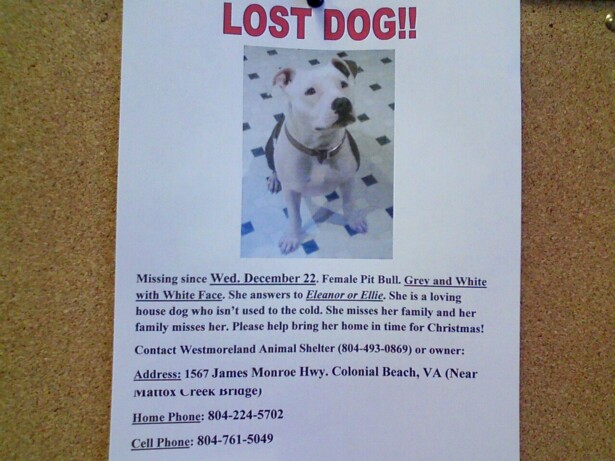 MISSING CAT
A Siamese cat is missing from the Ebb Tide Beach subdivision area of Colonial Beach. *REWARD* 804-224-2831
---
MISSING CAT - MIRACLE
This e-mail came from Tawnya at tawnyasdragon@aol.com: my cat Miracle, He has three legs....He has been missing for a month. We live on Bryant avenue, Neighbor last saw him right before school started.
---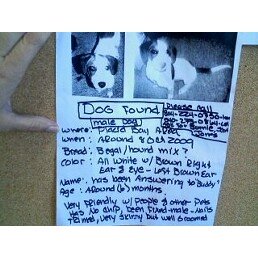 If this is your dog, contact Bonnie or Scott at 804-224-0730 or 540-273-0864. At least, I think that's what the phone numbers are on the flyer. They're a bit difficult to read.
---
MISSING DOG
Name: Chloe
Type: Chihuahua/Yorkie mix
Description: Black and brown with some white. Wiry hair.
Last seen: October 3rd around 4pm at the corner of Garfield & Longfellow.
ontact: Nettie or Danielle 804-224-3476 or 9020
---
---
Did you know Colonial Beach had a K-9 police unit?
Return from Missing Pets to Colonial-Beach-Virginia-Attractions.com Home