Studio A
Studio A at 10-A Hawthorn held their Grand Opening during the 2nd Friday Art Walk on Friday, March 9th 2012.
The place looked gorgeous, the food was wonderful and the art displays were incredible. I had a great time chatting with the various artists and crafters who occupy space in this beautiful location. Just a few short weeks ago, this building was empty and the only thing in it was blue tape on the floor marking out all the vendor spaces. What a transformation! I was speechless when I first walked in.
Droves of folks came through all evening to celebrate the occasion and check out the sterling silver jewelry, handcrafted wood furniture, paintings, stained glass, mosaics and other fabulous items for sale at Studio A. There was even a table where you could register for French Language lessons. (For info, e-mail auramauve@aol.com). There will be lots of upcoming art classes here, so stay tuned for details!
Owner Hannah Janney, who also owns the adjoining Pottery By Hand shop was on hand for the evening's festivities. She made a short speech, cut the Grand Opening cake and chatted with visitors.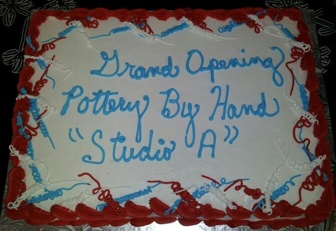 If you missed the event, never fear. They are now open for business and you can come and see and shop to your heart's content as your schedule allows. If you'd like to display your wares here, there's room outside on the grassy lot for about 28 vendor booths on the weekends! Give Hannah a call to reserve your spot.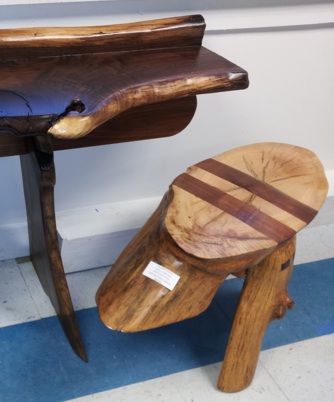 10-A Hawthorn, Colonial Beach VA 22443 phone: 540-454-5649
Return from Studio A to Art Galleries