Adopt A Cat or Kitten from Wendys Feline Friends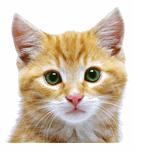 If you're an animal lover, you need to know about this most fabulous cat shelter! It's run by Wendy (obviously) and since the Westmoreland County Animal Shelter does not provide services for cats, Wendy takes in adoptable cats and kittens. All the cats live in a home setting and she also has a fully enclosed outdoor exercise area for them.
All her cats receive complete veterinary care and are FeLV negative. Adult cats are up to date on their shots and are spayed or neutered upon arrival. Wendy is great with cats, and she knows the personality of each intimately and is excellent at matching the right person with the right feline friend. There are also friendly, healthy, sterilized cats who choose to stay outdoors and would make perfect barn cats.
Wendy has always loved cats. She moved here to Colonial Beach from Baltimore, Maryland with eight of her own and more cats would show up, so she began adopting them out.
People from as far away as New Jersey and North Carolina have fallen in love after seeing adoptable cats on her website and made their way here to her Westmoreland Shores neighborhood to meet their feline friends. Wendy places an average of three cats per week.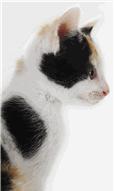 Her house, which is immaculate considering cats are everywhere, speaks to human irresponsibility, which is what has created a pet population explosion. That, coupled with the sorry state of the economy and people abandoning their pets because they can no longer afford to care for them is stretching resources everywhere very thin. Wendy's goal is to find homes for the cats she has already sheltered and not take in unwanted pets.
If you go to visit, it's helpful if you can bring and donate any of the following items: bleach, mouthwash, paper towels, large baskets, old bath towels, catnip, powdered kitten replacement milk, cat trees, and Bio-spot flea treatments. Wendy also collects aluminum cans to recycle for money towards her substantial veterinary bills.
Wendys Feline Friends shelter survives strictly on donations from the public.
Directions:
If coming from the North, take Route 301 South across the Potomac River ($3.00 bridge toll driving south across the Harry W. Nice Memorial Bridge). If you prefer to take I-95 South, see the next set of directions for an alternative travel route. At the 3rd traffic light after the bridge, turn left onto Route 218 heading toward Colonial Beach. About six miles down Route 218 you will come to a stop sign at a "T" intersection. Turn right. This is still Route 218. Drive 1.5 miles to the next stop sign at another "T". This is Route 205. Turn left, go about 200 yards and make the second possible right onto Longfield Road (Route 631). About five miles down Longfield Road you will come to another stop sign at a "T". Don't get confused, this is again Route 205. Turn left, go about 100 yards and make the first right onto Stoney Knoll (Route 628). About 1.5 miles down Stoney Knoll, you will come to a fork in the road. Bear right at this fork onto Holly Vista Drive (Route 633).
If coming from the South, West or East (or if you prefer to drive south on I-95), take Route 3 (either east from Fredericksburg or west from Warsaw) to Route 205 in Oak Grove. There is a traffic light and Shell Station at this intersection as well as a People's Community Bank building. Turn north toward Colonial Beach on Route 205. Two miles down Route 205 you will turn right onto Stoney Knoll (Route 628), across from a self-storage facility and the Colonial Beach Dragway. About 1.5 miles down Stoney Knoll, you will come to a fork in the road. Bear right at this fork onto Holly Vista Drive (Route 633).
Once on Holly Vista Drive, you will pass through a residential area, curve around a church, and continue on to 1228 Holly Vista Drive. Wendys Feline Friends will be on your right, just past Alta Vista Drive. She has a large floral painted mailbox (purple, blue, green), cement driveway, one-story white house and a fenced side yard. Come to the door that's facing the driveway.
And don't forget to spay or neuter your pet!
Wendys Feline Friends 804-224-1079 http://wendysfelinefriends.org/
Return from Wendys Feline Friends to Things to Do & See