The Whole Nine Yards
Open since July of 2011, The Whole Nine Yards is a gift shop which also carries some consignment items. One of the newest shops in the area, they are located right between the legendary Pearson's Seafood and Colonial Beach Barber Shop at 614 Colonial Avenue.
I hadn't heard of it until about a month ago, in November when someone told me about it. Boy, am I glad they did! Owner Elizabeth Kelly and her husband Chris have a great little store here! I recommend you check it out if you haven't already. I was able to visit for the first time recently and I really liked what I saw. In fact, I need to go back soon and pick up a few things!
You'll find a little bit of everything here from furniture, to a great selection of clothes & shoes, glassware, nautical-themed home decor (check out the fish, shell and driftwood mobiles!) toys & games and a whole lot more.

Store Hours
Monday & Tuesday - CLOSED
Wednesday thru Friday - 11:30am to 6pm
Saturday - 8 to 6
Sunday - noon to 5
The Whole 9 Yards 614 Colonial Avenue, Colonial Beach VA 22443 phone: 804-214-9122
They don't have a Facebook page or a website yet, but we'll keep you posted!
here's an aerial view - the shop is in the building just to the left of Pearson's Seafood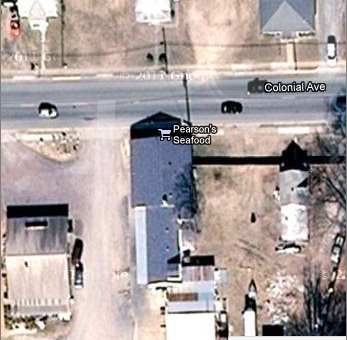 Return from The Whole Nine Yards to Shopping
Read about other Attractions in Colonial Beach