Willeys
---
Willeys Barbecue will soon move in to the former Denson's Grocery location on Washington Ave! Denson's began using their food truck and concentrating on catering offsite events a few years back and the store has been unused since then.
Update early 2023: The brick and mortar location on the Boardwalk was demolished in order to build the Osprey Flats Condominium Building. Willey's set up their food truck in the parking lot at Hall's Supermarket next to the laundromat.
Update Fall 2014: After many years as "Willey's Restaurant" on Rt. 205 in Colonial Beach, a short break away from the industry with some volunteer work and as the Kitchen/Bar Manager for the Fraternal Order of Eagles Aerie #4315, Colonial Beach, please welcome him back at "Willey's Road Stove" You may have seen it at the recent Bikefest on Town Hill. This mobile venue allows him to remain semi-retired yet still offer some of your favorite dishes and some new ones in a mobile setting.
---
Last Day of Operation: Sunday, April 6th, 2014
Willeys Ribs/Chicken/BBQ is located on Ridge Road (Route 205) between "Dragstrip Road" (Longfield Road, a.k.a. Route 631) and Treakle Road. This little area is known as Maple Grove.
Established in Virginia in March of 1992, Willeys specializes in fine Virginia barbecue. You can either dine in or call ahead and carryout from their pickup window.
The last time I ate at Willeys was at a farewell luncheon for a co-worker. The food was great and the staff did a good job accommodating our large party. The restaurant has a fun and comfortable atmosphere and there's plenty of free parking available too.
Michael and Trisha Willey's restaurant serves up
American (Traditional)
Barbeque
Burgers
Seafood
"Just Call, We Smoke 'em All!"
Click here to see what's on the menu at Willeys. You'll also find their catering menu here.
Restaurant reviews can be found on tripadvisor and yelp.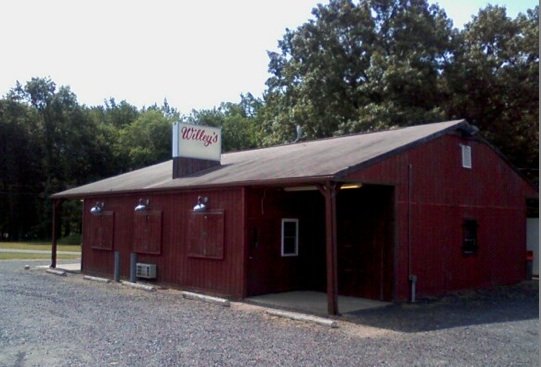 18480 Ridge Road, Colonial Beach, VA 22443 phone 804-224-RIBS (7427)
Return from Willeys to Restaurants