Densons Grocery and R&B Oyster Bar
Cooperative Living "Dining With Dan" July 2018 article
"Folks, We are Open for Business!"
Grand Opening was on Saturday, May 28, 2011.
---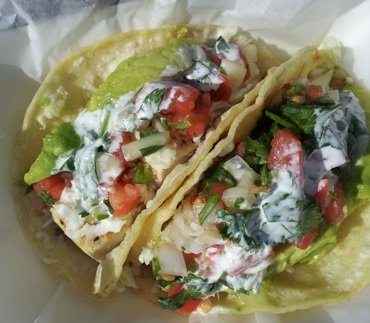 Fish Tacos
Back in the day, Densons Grocery used to be located at 118 Bancroft Ave. That shop was run by Rocky Denson's folks. Rocky and crew have re-opened in the former Sand Castles Ice Cream & Deli location on Washington Ave, and the shop is run by Rocky, wife Blaire, and sister Carole Denson Hollowell.


With an outside dining area, they provide a fresh water bowl and upon request you can order some tasty canine delights.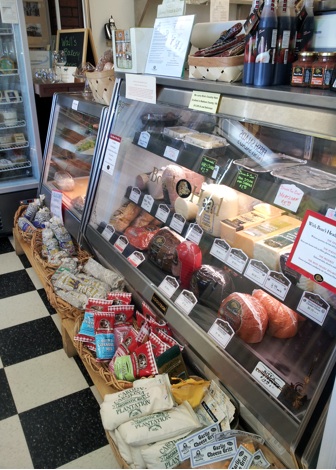 Grand Opening ceremonies in 2011 at the 1,000 square-foot shop included a ribbon cutting by mom Anne Skinner Denson, who sadly passed away in early 2013.
Densons Gocery: The Backstory
Frederick Denson originally opened the original shop in Colonial Beach back in 1912, and he passed the business on to Bernard and Anne in the late 1940's when Bernard got out of the Navy after World War II. He later became Mayor of the Town of Colonial Beach and also served on the Town Council.
A door from an old Densons Grocery delivery truck was located in a neighboring county not too long ago. It was presented to Rocky, and will be displayed in the store.
Items carried by the store include certified choice Angus beef, wild-caught (mainly local) seafood, imported and Virginia cheeses, organic milk in glass bottles from Pennsylvania, imported pastas and sauces, Carolina Plantation brand rice, stone-ground grits, and a variety of craft beers and local and imported wines.
Carole holds down the Deli department, which carries high-quality meats, chicken salad, potato salad and coleslaw made using old family recipes and sold in environmentally-friendly biodegradable containers.
In 2013, Denson's added a covered patio with plastic panels for winter gatherings. They also added "R&B Oyster Bar" to their name and you will delight at these tasty bivalves.
My favorite item here is the Mediterranean Salad! It has feta cheese, olives, sun-dried tomato and more yummy goodness.

117 Washington Avenue, Colonial Beach, VA 22443

Get this! Their phone number as of April 20, 2011 is: 224-4121 - or CA(CAPITAL)4-4121, same as the phone number to the original Denson's store!

Store hours vary by season. Please call for details.
Their webpage is at: www.densonsgrocery.com and you can find them on Facebook too.

Return from Densons Grocery to Colonial Beach Businesses