Bikefest

---
>>>  <<<
The dates for the 3rd Annual Bikefest:
October 6 - 9, 2016!
---
Here are recaps of the 1st Annual Bikefest in 2014
...and the 2nd Annual Bikefest in 2015

Bikefest is back for the third year in a row. Taking place over the long Columbus Day weekend, this promises to be bigger and better than the first two!
Bands already scheduled to perform include:
 Nighthawks

 Foghat

 Outlaws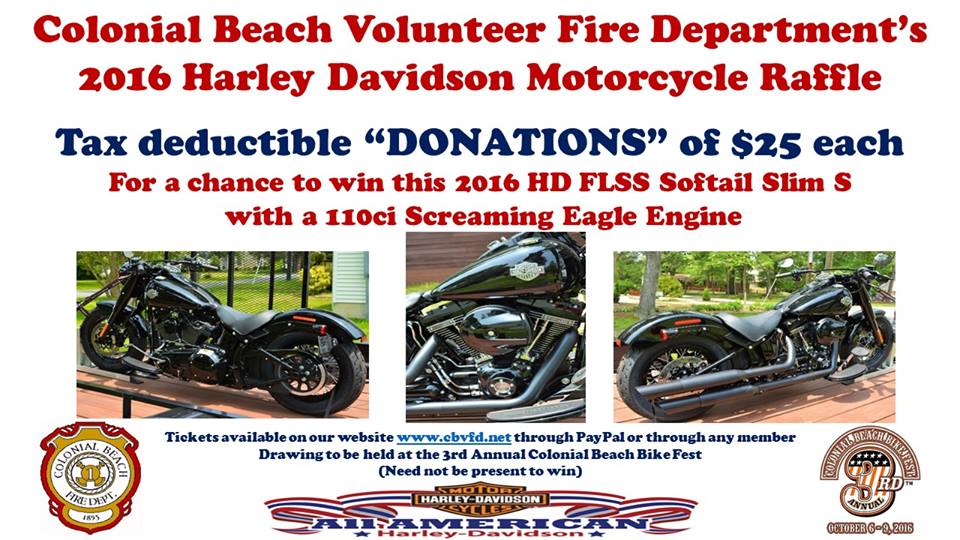 All American Harley-Davidson are one of the main sponsors. They along with Ripley formerly from 97.7 The Rocket radio station had discussed the idea in 2013 while dining at High Tides Restaurant, and I'm so glad they did! I can't wait for this event to return!

Our area has been and continues to be a favorite destination for bikers, with the beaches, historical sites, great waterfront dining spots, tiki bars with live music, boating and fishing activities and many lodging options. Visitors can enjoy a fun stay in our historic riverside resort town.
We even used to be home to The Broken Chain motorcycle shop.
Schedule of Events

Times, dates and locations are subject to change. Just text "follow ColBchVAttracts" to 40404 to receive up-to-the-minute information on your mobile device.


Daily

October 6, 2015 - Thursday
October 7, 2016 - Friday
October 8, 2016 - Saturday
October 9, 2016 - Sunday
2:00pm The Steppin' Stones perform on Town Hill
The Outlaws perform on Town Hill



Dockside Restaurant and Tiki Bar will be the headquarters for "Fajita Mike" of Full Throttle Saloon. 
Bands performing there during Bikefest include: Grindin' Gears Band, Yoko Says No, Scott Wood Band, Sam Grow Band and Lickity Splitz.

Also at Dockside you'll find the 5th Annual Bike and Golf Cart Show presented by Boston and Stephanie of Bike & Rider Productions.
back to top
Bikefest Vendors
Vendors who have signed up to participate include:

MERCHANDISE VENDORS:

Bag of Gold




JJ'S




Lost at Sea




Real Time Pain Relief




The Chamber Room




The Silver Coast




Back Woods Gal




Bath Fitters




Dakota Chimes




Origami Owl




Steve's Leather




FOOD VENDORS:
Dragon Creek Sea Food
Pop Pop's Kettle Corn
The Boardwalk Food Truck
Sunshine Catering
Sho-nuff
Mr. D's All American All Beef Hot Dogs
Hank's Pop-A-Licious Gourmet Pop Corn
Sweet Cakes


SERVICE VENDORS:

back to top
back to top
Return from Colonial Beach Bikefest to the Events Calendar page