Bikefest - 1st Annual!

October 9 - 12, 2014
LODGING VACANCIES UPDATE

Vacation rental houses Riverview Circle and The Oasis (new) are possibly showing availability for Bikefest weekend. Stay tuned to this page for further lodging updates, including a unit on the water for up to four persons.
Tent camping on the grounds of the Moose Lodge:
This Lodge is nestled in a serene wooded area about an eighth of a mile off of Rt. 205, right outside of town on your way to the dragstrip, on the left. 10 acres with amenities like concrete floored pavilion with ice cold beverages, horseshoe pits, corn hole, bonfire pit, port-a-potties and hand wash stations, paved driveway and parking area. NO showers however; if you wish to bring your own bag shower, please feel free.

---
Coming this Fall to Colonial Beach on October 9-12, 2014 is BIKEFEST!  This will be the first time that this event takes place here, and plans are underway for it to be an annual gathering, growing in popularity and numbers as the years progress.
All American Harley-Davidson are one of the main sponsors. They along with 97.7 The Rocket radio station had discussed the idea, and I'm so glad they did! I can't wait for this event!
Web design firm Cyberbility and the Chamber of Commerce are also sponsoring along with High Tides, Wilkerson's, HALO, River Terra Retreat and more.

Our area has been and continues to be a favorite destination for bikers,  with the beaches, great waterfront dining spots, tiki bars with live music, boating and fishing activities and many lodging options. Visitors can enjoy a fun stay in our historic riverside resort town.
We even used to be home to The Broken Chain motorcycle shop.

The graphic that was released when the event was
originally announced.

Stay tuned to this page for updates. Contests, music, vendor booths and much more are sure to be a part of the weekend's festivities. We'll be sure to keep you posted!
In the meantime, book your rooms! Accommodations are sure to fill up fast. We have the River Edge Inn for lodging as well as many other waterfront motels, bed and breakfast inns and rental cottages. There are also campgrounds and cabins available, if you're up for that! The Dragstrip and Hall's Supermarket are opening up space for campers. Boaters can dock up to the many transient slips available at our local marinas.
Schedule of Events

Times, dates and locations are subject to change. Just text "follow ColBchVAttracts" to 40404 to receive up-to-the-minute information on your mobile device.


October 9, 2014 - Thursday
At High Tides: Lighted Hoopy – Loopy-Hula Hoop as long as possible without dropping. Last person still hooping wins. Bar games every hour! Live Music by Franklin Square Band and Longreef

Merchandise, Craft and Food Vendors begin setting up on Town Hill and The Boardwalk 



October 10, 2014 - Friday

October 11, 2014 - Saturday
Merchandise, Craft and Food Vendors on Town Hill and The Boardwalk
3rd Annual Bike & Golf Cart Show at Dockside Tiki Bar hosted by Boston & Stephanie Nichols. Registration 9 - 11am, Awards Ceremony 2:30pm
At High Tides: Colonial Beaches Auction.
Bands All Day Starting at 11:00 AM.
Guess Bra Size? Ladies Bring your camera for this one! Pumpkin Smooching – calling on couples, Ladies. A pumpkin patch of laughs and fun await. 
Live music by Rock Bottom and Longreef


10 - 3

Harley-Davidson's Demo Fleet Sponsored by All American Harley-Davidson
12pm Cornhole Tournament at Dockside Tiki Bar

Poker Run


3pm

Swamp da Wamp

and the legendary

Molly Hatchet perform on Town Hill Admission: FREE

3pm bands (Rock & Roll Cowboys, Grinding Gears) at Colonial Beach Dragway until 11pm

5pm Celebrity Impersonator show at Sher's Snack Shack, 323 1st Street.
5pm Broken Angel band at the Eagles, 517 Colonial Ave.

Miss Colonial Beach Bikefest selection at Colonial Beach Dragway
Reno Hill band at the American Legion, 27 Colonial Ave.

8pm International Bikini Team Contest at Dockside Tiki Bar


9pm

Fireworks at the Town Pier

9pm Kashmir Led Zeppelin Tribute Band at The Black Pearl

9:30pm Sam Grow Band at Dockside Tiki Bar



October 12, 2014 - Sunday
Merchandise, Craft and Food Vendors on Town Hill and The Boardwalk
At High Tides: Live Music by

Bob Noble & Blue Voodoo

and

Snakebite


Ultimate Beer Gut Contest
Knick Knack Piggy Back Hot Dog Eating Contest piggy back style.
911 Wing Challenge "Can you stand the Heat?" Competition to crown King of the Wing! – This event supports the CB Fire Dept. Time TBD.
Bike Show sponsored by All American Harley-Davidson and professionally judged by

Boston Nichols Bike & Rider Productions.

All makes, models, years are welcome. Registration ($20) 10:00 – 12:00, showtimes 12:00-3:00pm. Awards Ceremony at the American Legion's Observation Deck at 3:00pm. 

$500 CASH PRIZE FOR "BEST OF SHOW"

25 Classes. 1st, 2nd & 3rd place and  five "Best of" Speciality Awards & BEST OF SHOW awards & trophies. For further information or questions, please call Boston Nichols at (804) 761-0765.
2pm Big Money Band at Dockside Tiki Bar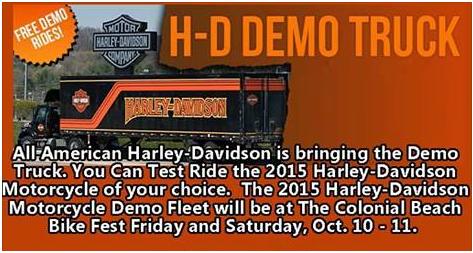 Other Bikefest events taking place at the Colonial Beach Dragway include:
- Corn hole tournament
- Jello wrestling
- Wet T-Shirt contest
- Burnout contest
- Test & tune (both cars and motorcycles)
back to top
Bikefest Vendors
Vendors who have already signed up to participate include:
If you'd like to participate as a vendor, please complete and submit the appropriate form(s), and note that listed pricing is early-bird pricing only.
Merchandise & Craft Vendors        Food Vendors AND Health Dept. Form 

Here's a pic of my favorite Harley-Davidson t-shirt. Picked it up at their store at National Harbor near D.C.
back to top
Merchandise

Update mid-February 2014: The official Bikefest t-shirts have been released by the event organizers and are now for sale. The design with Neptune on a motorcycle is on the front of the t-shirt and here's what the back of the shirt looks like:

The design is by graphic artist Jay Hayden. 
Buy your Bikefest t-shirt online here!

Update February 2014: A logo with a Halloween twist is introduced. The event does take place in October, after all. Here's King Neptune riding in for the event.

Update January 2014: Bikefest planning meetings continue. Here's a peek at the logo/artwork for the big event coming up in October. This cool logo (below) shows the tiki bar area of High Tides on the Potomac Steak & Seafood Restaurant in the background.

back to top
Return from Colonial Beach Bikefest to the Events Calendar page