Bikefest

---
The dates for the 2nd Annual Bikefest
have just been announced: October 8 - 11, 2015!

---
October 9 - 12, 2014 Slideshow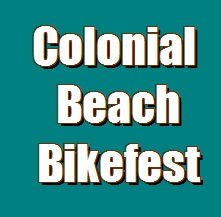 Coming this Fall to Colonial Beach on October 9-12, 2014 is BIKEFEST!  This will be the first time that this event takes place here, and plans are underway for it to be an annual gathering, growing in popularity and numbers as the years progress.
All American Harley-Davidson are one of the main sponsors. They along with 97.7 The Rocket radio station had discussed the idea, and I'm so glad they did! I can't wait for this event!
Web design firm Cyberbility and the Chamber of Commerce are also sponsoring along with High Tides, Wilkerson's, HALO, River Terra Retreat and more.

Our area has been and continues to be a favorite destination for bikers,  with the beaches, great waterfront dining spots, tiki bars with live music, boating and fishing activities and many lodging options. Visitors can enjoy a fun stay in our historic riverside resort town.
We even used to be home to The Broken Chain motorcycle shop.

The graphic that was released when the event was
originally announced.

Stay tuned to this page for updates. Contests, music, vendor booths and much more are sure to be a part of the weekend's festivities. We'll be sure to keep you posted!
In the meantime, book your rooms! Accommodations are sure to fill up fast. We have the River Edge Inn for lodging as well as many other waterfront motels, bed and breakfast inns and rental cottages. There are also campgrounds and cabins available, if you're up for that! The Dragstrip and Hall's Supermarket are opening up space for campers. Boaters can dock up to the many transient slips available at our local marinas.
Schedule of Events

Times, dates and locations are subject to change. Just text "follow ColBchVAttracts" to 40404 to receive up-to-the-minute information on your mobile device. Downloadable/Printable PDF


October 9, 2014 - Thursday
October 10, 2014 - Friday
October 11, 2014 - Saturday

October 12, 2014 - Sunday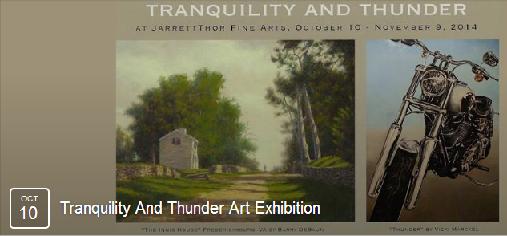 Art Exhibit at Jarret Thor Gallery, 100 Taylor St.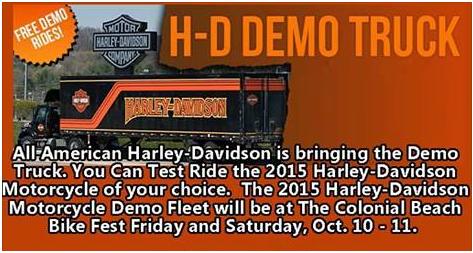 Other Bikefest events taking place at the Colonial Beach Dragway include:
- Corn hole tournament
- Jello wrestling
- Wet T-Shirt contest
- Burnout contest
- Test & tune (both cars and motorcycles)
back to top
Bikefest Vendors
Vendors who have already signed up to participate include:
If you'd like to participate as a vendor, please complete and submit the appropriate form(s), and note that listed pricing is early-bird pricing only.
Merchandise & Craft Vendors        Food Vendors AND Health Dept. Form 

Here's a pic of my favorite Harley-Davidson t-shirt. Picked it up at their store at National Harbor near D.C.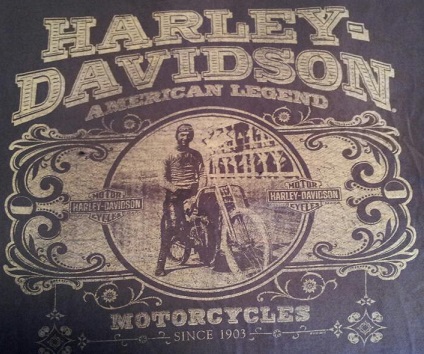 back to top
Merchandise

Update mid-February 2014: The official Bikefest t-shirts have been released by the event organizers and are now for sale. The design with Neptune on a motorcycle is on the front of the t-shirt and here's what the back of the shirt looks like:

The design is by graphic artist Jay Hayden. 
Update February 2014: A logo with a Halloween twist is introduced. The event does take place in October, after all. Here's King Neptune riding in for the event.

Update January 2014: Bikefest planning meetings continue. Here's a peek at the logo/artwork for the big event coming up in October. This cool logo (below) shows the tiki bar area of High Tides on the Potomac Steak & Seafood Restaurant in the background.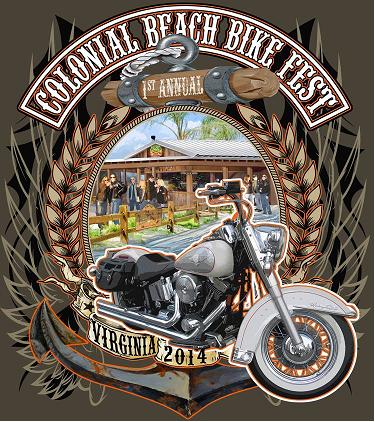 back to top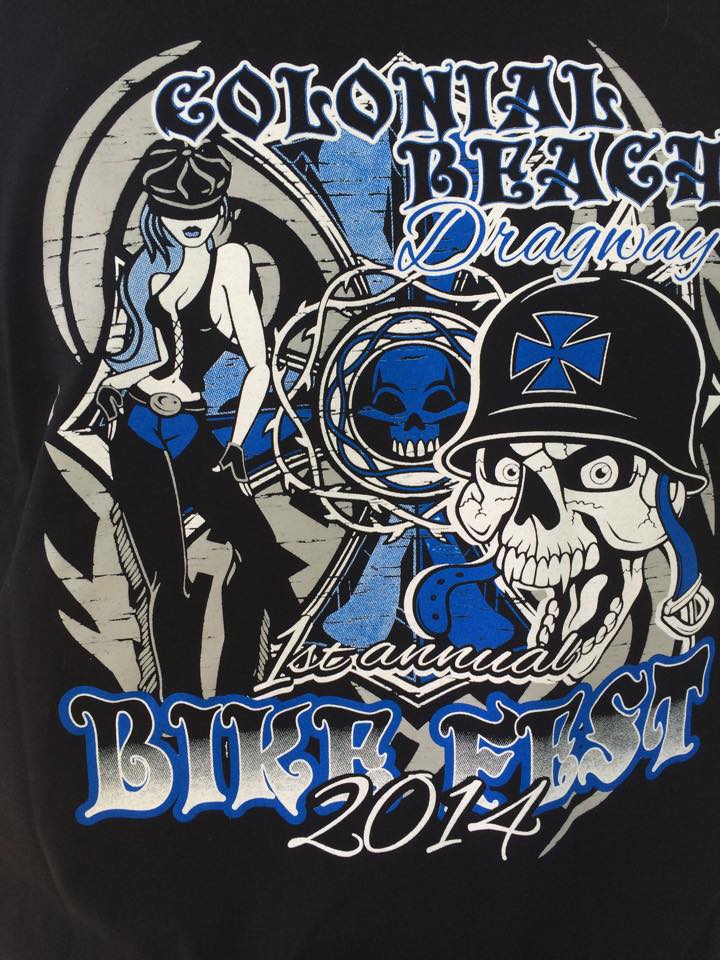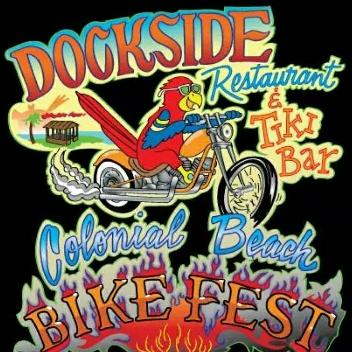 Return from Colonial Beach Bikefest to the Events Calendar page