"So, What are Your Favorite of All the Colonial Beach, Virginia Attractions?"
Colonial Beach, Virginia attractions. What's my favorite? It's hard to say, since there are so many to choose from! I found that out after visiting for the first time some ten years ago. I saw the signs pointing towards the town every time I traveled along Route 301 on my way to and from Maryland. One day I decided to follow the signs. I'm so glad I did!


This quaint riverside resort town has the second-longest public beach in Virginia and is nestled on the Potomac River in Virginia's Northern Neck region, with all it's history, rich heritage and unspoiled beauty.
Catch a glimpse of the symbol of our nation, the mighty bald eagle as they soar overhead.

Visit the birthplaces of U.S. Presidents George Washington and James Monroe.
Lounge on the beach, fish from the Pier, paddle a kayak or search for ancient fossilized sharks teeth!.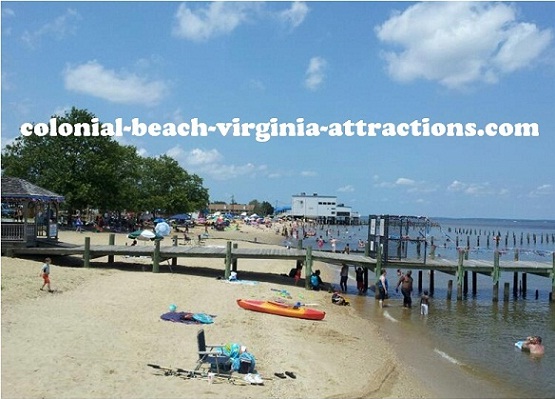 Colonial Beach, Virginia
Surrounded by water on three sides and having a variety of
marinas
, this place is a boater's paradise. Landlubbers can opt for bike,
golf cart
or
trolley
service to get around.
There are over
25 different restaurants
in town serving everything your taste buds could want. Of course we have great seafood, and there's everything from tapas to ice cream to Thai and French food - and everything in between! You won't go hungry in Colonial Beach.
Inventor of the telephone Alexander Graham Bell spent his summers here and you can stay in the house he owned. (Phones optional, it's your vacation!)
Bring the friends and family - there's something for everyone of all ages!
Get updates via SMS. Receive Tweets on your cellphone! Just text "follow ColBchVAttracts" to 40404 (United States. For other countries, get the code at twitter.com)
Sunbathing & Swimming Scene Giclee Print
Buy at AllPosters.com
Whether it be a weekend, a summer, or a lifetime, come and spend it in beautiful Colonial Beach, Virginia!
Current Conditions
Extended Weather Forecast - with weather webcam!
The Town Welcomes You!

TABLE OF CONTENTS:
The Colonial Beach, Virginia Attractions Blog keeps you up-to-date with news, event information, and all additions and changes to the web site.
Visit Colonial Beach Virginia! See...Stay...Sun...Stroll...Shop...Sip...Savor. This riverside resort town has so much to offer!
Colonial Beach VA has so many great things to offer. A longtime vacation resort area, this little seaside town has plenty of fun in store.
Information on the Town of Colonial Beach founding, incorporation and celebrations.
Area art lessons don't just include watercolors or oil on canvas! There are music, language, crafts and culinary workshops, too!
The Colonial Beach Forum is THE place to discuss the beach as well as a great information resource!
Fun and interesting Colonial Beach, Virginia facts. Test your knowledge of the town.
History Colonial Beach. Since this little town was founded, lots has gone on! Here's a chronological account of the events.
Share your fondest Colonial Beach memories here, and read recollections posted by others.
Here's a great gallery of Virginia pictures. If you've got some to share, please send them in!
Have you seen Colonial Beach at night lately? The lights and decorations are so pretty! Here's a preview...
Colonial Beach VA jobs and job search engine, as well as area employment information. This is a great place to work, live and play!
colonial beach events, colonial beach calendar
Event pictures from jetski races and other attractions in Colonial Beach.
Earth Day litter clean-up in Colonial Beach - here's what we found.
Feats of strength on display at the Northern Neck Strongman Competition!
Stop by for Market Days, last Saturday in May - September and enjoy a free Bluemont Concert too!
Enter your cycle into the Thunder at the Beach Bike Show! Benefits the Colonial Beach Education Foundation.
Annual Basketball Camp at the Drifterdome. Come out and play!
Info on Dog Days, how it got it's name and local events/celebrations.
Come enjoy our Oktoberfest celebration to benefit Autism Research!
Come to the Seafood Festival and enjoy Wine, Music, Art, Sun and Sand too!
The 2011 Calendar of events in Colonial Beach, Virginia.
2010 Calendar of Events for Colonial Beach, VA
Colonial Beach, VA 2009 Calendar of Events page, searchable.
2008 Calendar of Events and Activities for Colonial Beach, Virginia - The Playground on the Potomac.
Town of Colonial Beach 2007 Calendar of Events.
Check out the many Virginia attractions the area in and around Colonial Beach has to offer!
Commonwealth of Virginia Attractions in the Colonial Beach and upper Northern Neck areas.
Here's a trip planner for various different themed activities in the Colonial Beach area.
Inventor of the Telephone, Alexander Graham Bell was a frequent visitor to Colonial Beach, Virginia.
Town Hill is where all the great events take place. A large gathering spot, it's where all the fun is!
Pier Fishing at it's finest! Give in to pier pressure and come on down to fish from these great spots!
Race or ride at the Northern Neck ATV Park - a great facility in Colonial Beach, VA!
Colonial Beach wouldn't be known as Virginia's Potomac River Playground if it weren't for the Potomac River. Here's an up-close look at this mighty waterway.
Potomac Beach is just a small area, with a huge amount of potential, right next door to Colonial Beach.
U.S. President James Monroe was born on a farm off Route 205 at Colonial Beach, VA!
Colonial Beach has a Ford Museum, showcasing only the 1954 models.
If you've never gone on a shark tooth hunt, you've got to try it! Colonial Beach has areas where these fossils are readily found.
Birding, walking and river views at the Voorhees Nature Preserve just outside of the Colonial Beach area. Come see where bald eagles nest and roost!
The Cameron Hills Golf Course is the closest one to the Colonial Beach area. Visit this gorgeous property for a fun day out on the links!
The beautiful Castlewood Park has great river and bay views and fun for all!
Socials - A beach clubhouse for teens (ages 13 - 18) featuring gaming and more fun activities is in the works!
Check out the beach mural, a modern adaptation of Georges Suerat's Sunday Afternoon in the Park on the island of La Grand Jatte.
With as many great Colonial Beach attractions that exist right now, there's always room for expansion and improvement. Here's a page to read and discuss ideas for more great stuff for the town.
Make your next getaway a Virginia beach vacation! Here's why...
This trip planner page is to help you locate discount airfare, discount hotel rooms and cheap travel deals for your next vacation.
The Northern Neck Virginia is the region in which Colonial Beach is located. Made up of 4 counties, there's so much to see here!
Colonial Beach, Virginia vacations as well as fun and easy day trips within easy reach of the beach.
Colonial Williamsburg VA - a great Day Trip destination from the Colonial Beach area. Step back in history and experience a slice of living in Colonial times at this favorite Virginia travel spot.
Tangier Island is a great day trip option while you're here vacationing in the Northern Neck!
Extended weather forecast and notes on Virginia weather with 15 day weather forecast.
Here's a Map of Virginia highlighting the great little riverside resort town of Colonial Beach.
To get around, Colonial Beach bus service is available in town and travels to other great destinations!
See why Colonial Beach residents are having fun with golf carts. They're not just for the golf course anymore!
Check here for oil change coupon news and area automotive service updates and information.
Plenty of vacation house rentals to choose from in the Colonial Beach area.
Discover Monroe Bay Campground and make this your home away from home next time you visit Colonial Beach!
Your source for vacation house rentals in the beautiful Town of Colonial Beach and surrounding areas. Descriptions of local subdivisions and resources for finding your perfect second home.
Enjoy a Virginia Bed and Breakfast in the Town of Colonial Beach for relaxing and rejuvenating.
While there are no giant hotels Colonial Beach offers motels, cottages B&B's and other vacation rentals
The Potomac Crossing subdivision is in the works in Colonial Beach, VA. Stay tuned here for more information.
Restaurants in Colonial Beach offer a wide variety of food and drink. There are twenty-five establishments to choose from!
The Lighthouse Restaurant is shining brightly over the waters of Monroe Bay in Colonial Beach!
Bowies Restaurant is closed until further notice. Stay tuned for updates.
Cakes made to order for your wedding, birthday or any other special occasion. Crafted right here in Colonial Beach!
The Sweet Tastin Bakery offers just about any pastry item imaginable, and ice cream and hot and cold beverages, too!
One of the oldest and largest, Ingleside Vineyards, winners of the Visitors Choice award for favorite winery in the Chesapeake Bay Region is a must-see on your trip to the Colonial Beach area.
Bring your classic cars and cruise in to Fat Freda's on Fridays for food and fun! Check out the great cars and hear some good music.
Stop by Nancys Ice Cream Shoppe for a wonderful, cool treat!
Cravin' some hot wings? Wingz & Thingz shop will be opening soon! Visit this page to see what we know so far.
Your source for Virginia Land for Sale. From Mountain to Meadow to Shore, you'll find information on it here.
Shopping options are plentiful here in Colonial Beach! Come and check out our stores and shops.
Custom Cartz is a golf cart shop in our golf cart town.
This is the coolest collection of Colonial Beach Souvenirs on the web, a virtual Colonial Beach yard sale!
Shop at the Red Barn for antiques, clothing, household goods and...
Studio A is the latest addition to the thriving art community in Colonial Beach, Virginia!
Check this page on Boats for Sale with information on everything from used boats to mega yachts.
A full service boatyard, Chesapeake Mobile Marine is tucked in right near the Dockside Restaurant and the Colonial Beach Yacht Center.
Stepps Harbor View Marina is a full-service, family-run outfit on well-protected Mattox Creek in the Colonial Beach area.
Visions by Shirl, a working studio/art shoppe with the aim to promote art that appeals to all age groups.
Raggs Women's Apparel in Colonial Plaza.
Grandmas Jewelry Box has tons of jewelry for sale, plus so much more!
A variety of motorcycle gifts and apparel can be found at this cool shop!
The fabulous Populuxe shop just down the street from the SeaSide Thai-French restaurant in Colonial Beach.
Calling all entrepreneurs! Commercial properties available in and around Colonial Beach. Open a B&B, restaurant, shop or just lease some office space here in our great town.
Death records information and links. Online listings make it super easy for genealogy research.
Colonial Beach hosts a Family Movie Night monthly, in season. Come enjoy the show!
The Walker Brothers Circus makes a yearly stop on Town Hill in Colonial Beach to delight both young and old, and everyone in between.
Come to the beach and have a ball at the annual Beach Ball dinner and dance to benefit the schools and rescue and fire squads.
Miss Ann, beautiful luxury historic fantail yacht visits Colonial Beach, Virginia. You should, too!
One history buff's diary entry about Jamestown 400's reenactment of Captain John Smith's 1608 visit to Colonial Beach.
Pictures and Notes on the Annual Car and Truck Show hosted by the Oak Grove Volunteer Fire Department in Colonial Beach.
Colonial Beach hosts the jetski competition once in awhile. It's a wonderful event and a spectacular sight to see!
The Virginia Cross-Country Series (VXCS) holds it's first dirtbike ATV race of the 2009 Season in Colonial Beach!
Colonial Beach's K-9 Unit, Four-legged Officer.
Waste management can be pretty entertaining in Colonial Beach!
Check out some great bands at the Battle at the Beach and support the Wounded Warrior Foundation.
The Chamber of Commerce in town sponsors and co-sponsors events and supports local businesses.
Project Colonial Beach: People working together to make a difference!
The Colonial Beach Education Foundation grants scholarships and more.
150 members strong is the Womens Business Network of the Northern Neck region.
The Bonus Room is a facility available for many types of gatherings and functions in Colonial Beach.
Which famous author has made Colonial Beach their home? There have been a few, actually.
colonial Beach High School, home of the Drifters and quite possibly the only public high school in the state to be built with private funds!
The Drifters Colonial Beach basketball team made the most of a Friday the 13th and won the State Championship game!
Information on reverse phone book or reverse phone directory as well as people locator info.
Need a last-minute errand run? Colonial Beach Delivery Service can help. Save on gas and time and stress.
The Colonial Beach Volunteer Rescue Squad has been in operation for over 60 years, proudly serving and saving lives.
There are many places called Colonial Beach. From Barcelo Maya to Mauritius to the Bahamas, and even here in the States we have some namesakes in Florida, Cape Cod and Maryland.
Colonial Beach Virginia Attractions Blog. Visit here for the latest news and announcements on happenings at the beach.
A collection of Facebook pages for organizations, groups, shops and restaurants in our area. Don't forget to click the "Like" button!
Just the FAQs (frequently asked questions) on Colonial Beach, Virginia. Here's a list of the questions we receive most often and their answers.
This new shop carries the whole nine yards! Come see all they have for sale. Conveniently located right on Colonial Avenue.
There are quite a few books on Colonial Beach, and even more that make mention of this awesome riverside resort town.
The Colonial Beach Yacht Center offers a marina, a restaurant and pub and a whole lot more. Check out the views of Monroe Bay and the Potomac River from here!
The Patawomeck Heritage Foundation is local to Colonial Beach and is dedicated to promoting and preserving the culture of this Native American tribe.
The Down on the Farm tour takes place in the Northern Neck and in 2012 features four Colonial Beach sites!
The Dawg House has hot dogs, BBQ, sno-cones and other great munchies!
French Lessons offered in Colonial Beach. Classes beginning soon. Private Instruction available as well.
The Miss Potomac pageant is still a part of the annual Potomac River Festival in Colonial Beach, though it has been known as the Miss Colonial Beach pageant for a couple of decades now.
Information on Parade Routes for the Potomac River Festival. Firemen's Parade and Grand Feature Parade.
Site Sponsors:
---
Colonial Beach Virginia Attractions


Promote Your Page Too

#5 - Colonial Beach!
>>>Souvenirs<<<