Shopping 'til we Drop in Colonial Beach
Grand Opening of the Goodwill Store in Colonial Beach - Friday, February 28th, 2014 at 10:00 a.m.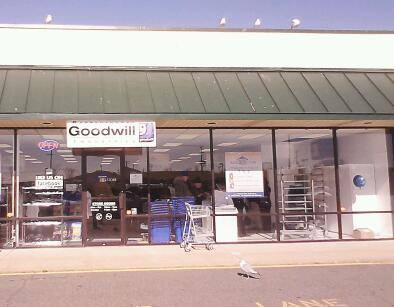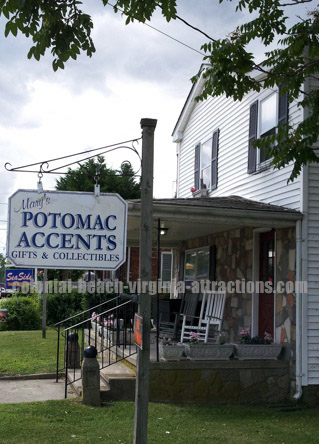 So many options and shopping opportunities here in Colonial Beach! Take the Trolley or arrange for transit bus service, or just bike, take a golf cart or walk to any of the many great stores in the area.
Check out our Classified Ads page!
Forgot to collect souvenirs while you were here in town? No problem, you can buy them online here!
Alphabetical Listing of Stores:
7-11 804-224-7660
ABC Store 804-224-7955 (Beachgate Shopping Center)
Allison Floors 804-224-9010
Barnyard Novelties 804-224-8589
Bayside Wine & Gourmet Foods 912 Colonial Ave. 804-224-8460 (Closed)
Beach Shop, The 209 Taylor St. 804-224-7191 (see photo, above)
Beachgate Bargains (at the stoplight in the Allison bldg.)
Beth's Bargains open Sat. 9am - 2pm on Hawthorn St.
The Broken Chain Motorcycle Gifts & Apparel 703-673-8748 (Closed 2011)
C&B Auto Parts (NAPA) 804-224-0080
Cars To Go diecast and collectibles 321 Washington Ave. 804-224-0414 (seasonal) on Washington Ave.
Colonial Beach Discount 804-224-1857
Compulsive Cravings Antiques & Gifts 571-213-8916 (going out of business)
Custom Cartz 614 Colonial Ave.
Dollar General 804-224-7042
Esco Limited 301-922-4487
Everything's Beachy & The Beach Bazaar 804-224-7191 (The Beach Shop) on the Boardwalk
F&A Auto Sales (Corvettes) 804-224-0588
Family Dollar 804-224-0603
Food Lion 804-224-2064
Four Seasons Florist 804-224-9020
Gitie's 540-775-1849 (see also Red Barn)
Gold Canyon Candles www.crazycandlelady.com Amanda Jett 540-842-7244
Goodwill store in the Beachgate Shopping Center
Grandma's Jewelry Box 804-224-4222
Hall's Supermarket 804-224-9310
Jarrett Thor Fine Arts 804-224-7200
Len & Marcy's Thrift & Gift 614 Colonial Ave. twitter: lenandmarcys (Closed)
Linda's Beauty Shop 804-224-7330
Lisa's Memory Lane Cards & Gifts 804-214-9311 (Closed 2010)
Movie Gallery 804-224-1156 (Closed, March 2010)
Peddlers Market in Colonial Beach Plaza (Closing for the season Dec. 29, 2014 to March 2015)
Populuxe used to be at 222 Wilder, in Fredericksburg as of 2013.
Potomac Accents 804-224-2089, 308 Washington Ave.
Potomac Sunrise 804-224-4560
Pottery By Hand 10 Hawthorn
Raggs Women's Apparel (Colonial Beach Plaza)
Rankin's True Value Hardware 804-224-8996
Rankin's Appliance and Furniture 804-224-8996
Red Barn, Oak Grove
Rite Aid 804-224-2318 in the Beachgate Shopping Center
Rydell's Bargains, Antiques & Collectibles 804-925-5879
This & That Thrift Shop, 4115 Kings Hwy., Oak Grove
Tides Inn Market 804-214-9352
United Methodist Church Thrift Shop 804-224-7030 (see photo, below)
Visions By Shirl 116 Hawthorn, #C-2
Whole 9 Yards 614 Colonial Ave. 804-214-9122 (Closed 2012)
WideRiver Gallery 804-224-9984 (Closed 2012)
Wishes and Dreams 804-224-4750

A shopping center with three anchor stores and a handful of smaller shops is in the plan for the area in front of the Monroe Point Townhomes development, across from Beachgate.

Our local Food Lion has an organic section for all us health nuts out there. The same aisle also has a great wine selection.

Wishes and Dreams is my favorite place to go for nautical-themed home decor. Since we live on the water, it's only natural that we go with a seaside theme. I've found a lot of great items here, and I'll keep going back for more.

Gitie's Shop is another place I like to frequent because she carries a wide variety of all sorts of things. It's easy to spend an hour shopping there because there's so much to see! Gitie's has a location at the corner of Rt. 218 and 205, and another at Red Barn in Oak Grove.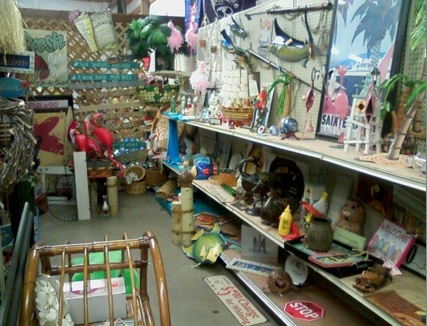 ---
Return from Shopping to Attractions
Return to the Home page