Bikefest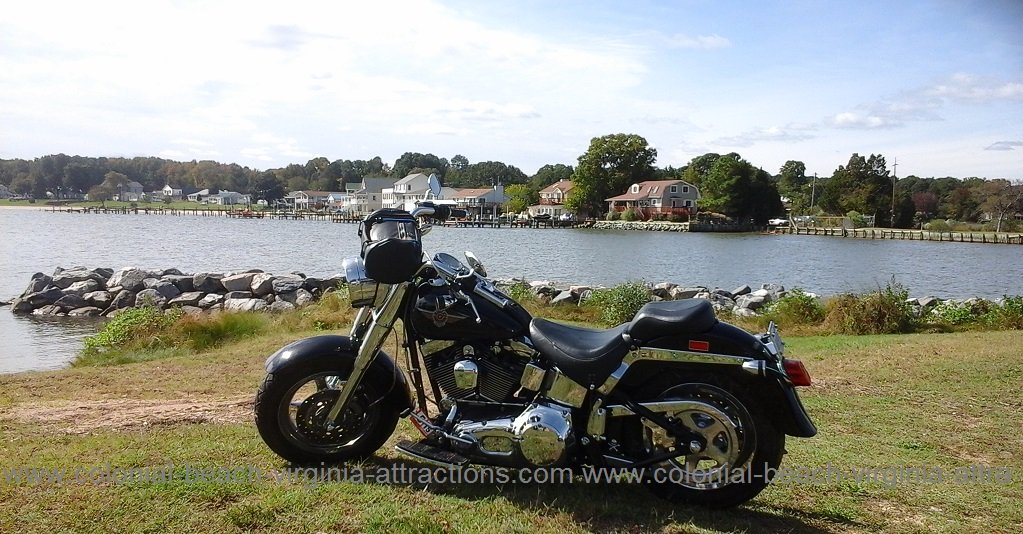 >>>  <<<
The dates for the 6th Annual Bikefest in 2019:
October 10 - 13
Special Appearance By:
Michael Ballard of Full Throttle Saloon
Headlining Bands:
Friday: Longreef
Saturday: Fuel
Sunday: Puddle of Mudd
---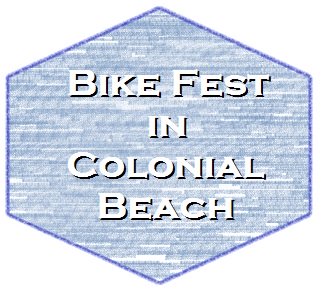 It is back for the sixth year in a row! With internationally acclaimed bands and special guest appearances, this one promises to be bigger and better than the first five!
Come enjoy concerts on Town Hill, vendors, bikini contest, bike shows and more in the beautiful setting of Colonial Beach - Virginia's "Potomac River Playground"
Bikefest Beginnings
All American Harley-Davidson were one of the main sponsors. They along with Ripley formerly from 97.7 The Rocket radio station had discussed the idea in 2013 while dining at High Tides Restaurant, and I'm so glad they did!  

Our area has been and continues to be a favorite destination for bikers, with the beaches, historical sites, great waterfront dining spots, tiki bars with live music, boating and fishing activities and many lodging options. Visitors can enjoy a fun stay in our picturesque riverside resort town.
We even used to be home to The Broken Chain motorcycle shop.

Here are recaps of the 1st Annual in 2014
and the 5th Annual in 2018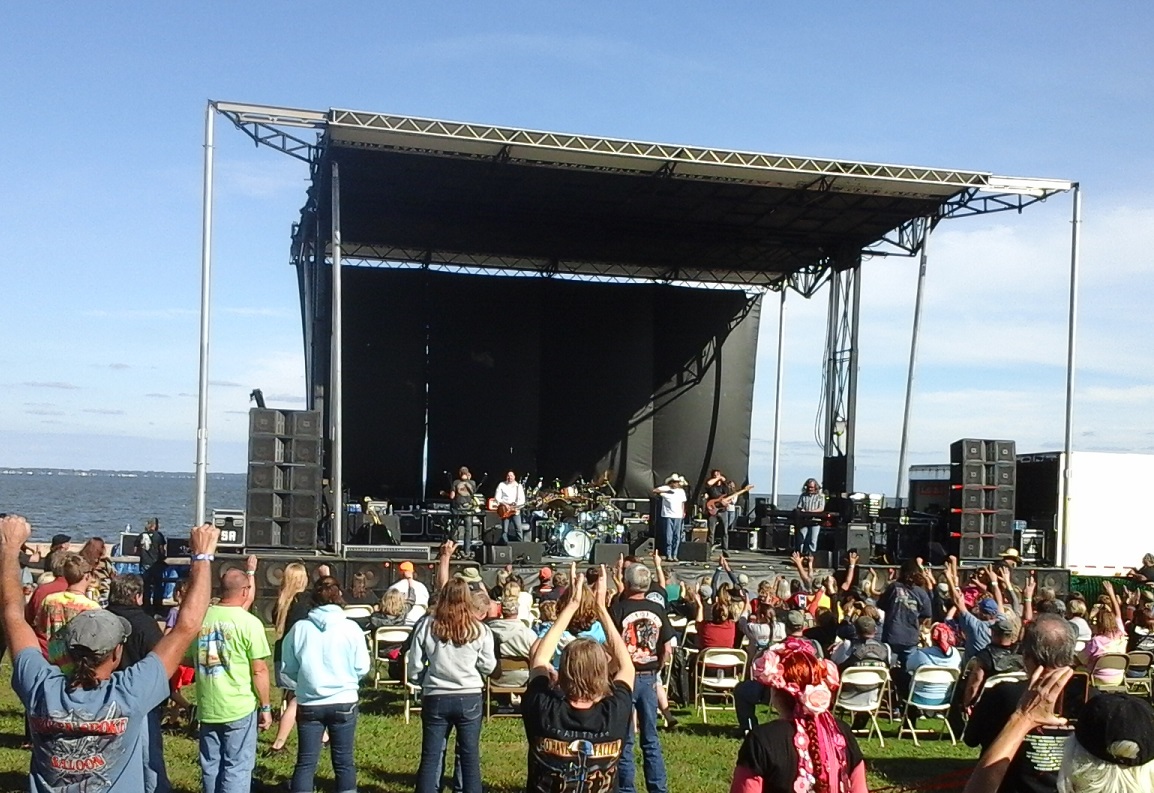 Schedule of Events

Times, dates and locations are subject to change. Just text "follow ColBchVAttracts" to 40404 to receive up-to-the-minute information on your mobile device. 

Daily
10:00 a.m. Vendors, Event Merchandise, Food Trucks on Town Hill and the Boardwalk
12:00 p.m. Beer an Wine sales on Town Hill


October 10 - Thursday
1:00 - 3:00 p.m. Stubentiger Band on Town Stage
3:30 - 6:30 p.m. Lucky 757 Band on Town Stage
6:00 - 10:00 p.m. Nameless Nameless band at Dockside
7:00 - 10:00 p.m. Doc Marten & The Flannels at High Tides


October 11 - Friday

9:00 a.m. Veterans Appreciation Ride
Start: 18900 Jefferson Davis Hwy., Triangle VA End: 27 Colonial Ave, Colonial Beach VA. Register 9 - 10:30. Prayer 10:45, Kickstands up 11:00.
1:00 - 1:30 p.m. Kickoff Ceremony on Town Stage
1:30 - 3:30 p.m. Old School on Town Stage
4:00 - 6:00 p.m. Vivid Vertigo on Town Stage
4:00 - 8:00 p.m. Bombshell at High Tides Black Pearl Tiki Bar
4:00 - 8:00 p.m. BBQ Chicken and Rib Takeout Dinner at the Fire Station, 312 Colonial Ave. (Dinner includes Half Chicken or Half Rack of Ribs, Baked Beans, Cole Slaw, Bread, and a Drink. Half Chicken Dinner $15. Half Rib Dinner $20 (Full Rib with purchase of two dinners, $40)
6:00 - 9:00 p.m. 2nd Friday ArtWalk at various venues around Town
6:00 - 10:00 p.m. Nighthawks band at Dockside
6:00 - 10:00 p.m. The Roadducks at Monroe Bay Campground
7:30 - 8:30 p.m. The WORX on the Main Stage
8:00 - midnight Lucky 757 at the Eagles, 517 Colonial Ave.
8:00 p.m. Cedar Creek at High Tides
9:00 - 10:30 p.m. Longreef on the Main Stage
9:00 - midnight Vintage Voodoo at The Riverboat


October 12 - Saturday
8:00 - noon $8 Breakfast at the Eagles, 517 Colonial Ave. Hash brown casserole, chip beef & gravy, toast, bacon, sausage, eggs, mimosa. $3 mimosa refills. Open to the Public.
12:00 p.m. Grindin' Gears at Dockside
1:00 - 2:30 p.m.  Flippin' Eyelids on Town Stage
3:00 p.m. Josh Misner Band at High Tides
3:00 - 6:00 p.m. Hard to Tell on Town Stage
5:00 p.m. Yoko Says No at Dockside
7:00 - 8:30 p.m. Longreef on the Main Stage
8:00 p.m. Come Back Iris at High Tides
8:00 p.m. The Fogg Band at the Eagles, 517 Colonial Ave.
9:00 - 10:30 p.m. Fuel on the Main Stage
9:00 - midnight Vintage Voodoo at The Riverboat
9:30 p.m. JunkFood Band at Dockside


October 13 - Sunday
9:00 a.m. - 1:00 p.m. Bike Show at the Colonial Beach Plaza shopping center. Registration 9am, awards 1pm. All motorcycles welcome.
11:00 a.m. - 3:00 p.m. Flippin Eyelids band at Dockside
12:00 - 1:00 p.m. Brian and Sally on Town Stage
2:00 - 3:30 p.m. Longreef on the Main Stage
3:00 - 7:00 p.m. Badlands Band at Dockside
3:00 - 7:00 p.m. Rockin' Roger at The Riverboat
4:00 - 5:30 p.m. Puddle of Mudd on the Main Stage
4:30 - 8:30 p.m. Ashleigh Chevalier Band at High Tides Black Pearl Tiki Bar
back to top
Bikefest Vendors
Vendors who have signed up to participate include:

MERCHANDISE VENDORS:

 
BIKER CLOTHING COMPANY: Retails and wholesales fine apparel for motorcycle enthusiasts with two retail locations in Daytona Beach, FL.  
BC ENTERPRISE - THE CHAMBER ROOM: Jewelry, Do-Rags, Figurines, Baja jackets, stepping stones and more.
DAMSEL IN DEFENSE: Our mission is to equip, empower and educate women and reduce the statistics of sexual assault and domestic violence. 
DEBRIA'S DESIGNS: Upscale surgical grade stainless steel jewelry and rings.  
FULL THROTTLE SALOON: Michael Ballard's motorcycle clothing and accessories. 
MAX LEATHER: We sell leather products to meet the needs of all bikers!
MY CRAFT ASYLUM: Crafts including ornaments, koozies, bookmarks, floating key rings, coasters and more!
OUTLAW TOBACCO: Cigar Lounge.
PATCHSTOP: We are "The World's Largest Patch Store"!
RED ROCKET SIGNS: Pinstriper - Hand-paint lettering and pinstripes on motorcycles.
SANDRA AND JAMES' 5 DOLLAR JEWELRY: Paparazzi $5 Dollar Jewelry.
SOLDIER SOLUTIONS, LLC: Patriotic Apparel for Devoted Patriots!
FOOD VENDORS:
In addition to our local area restaurants, these vendors will be available during the event:

DOGS AND HOGS GONE WILD, LLC: We steam your buns and chili your weinee!
LICKSKILLET GRILL: We love delicious food therefore we prepare and serve delicious food!
LATIN FLAVE: Delicious Latin food with flair!
LITTLE PIGGY'S WURST NIGHTMARE/DINO ICE: Little Piggy's Wurst Nightmare is a mobile food truck serving BBQ, Brats, Nathan's Hot Dogs, fries, shaved ice, etc.
POPPOP'S ENTERPRISES, INC.: Serving freshly popped kettle corn, cotton candy, and bottled water and soft drinks.
SUNSHINE CATERING: Italian sausage with peppers and onions, pit beef, ham, and turkey, Freedom Fries, soft pretzels, lemonade, bottled water, soft drinks.
UNCLE DAVE'S KETTLE CORN: Popcorn, Kettle Corn, and Drinks.
WHITLEY'S PEANUTS: Delicious, gourmet peanuts.

SERVICE VENDORS:

AID OUR VETERANS: Nonprofit that assists homeless and out-of-work veterans and their families.
HONORBOUND MOTORCYCLE MINISTRY: Free water, coffee, and orange juice, bandanas, crosses, and bibles.  We pray with anyone requesting it or needing assistance.  We are a nationwide motorcycle ministry that serves the local community 24/7.
MCGRATH'S MOTORCYCLE LAW GROUP: Avid motorcycle riders, our attorneys have been representing personal injury clients for over 30 years.
RIDER INSURANCE: 45+ years of experience specializing in low cost motorcycle insurance.
THE BOATHOUSE MARINA: Selling t-shirts for Breast Cancer Awareness.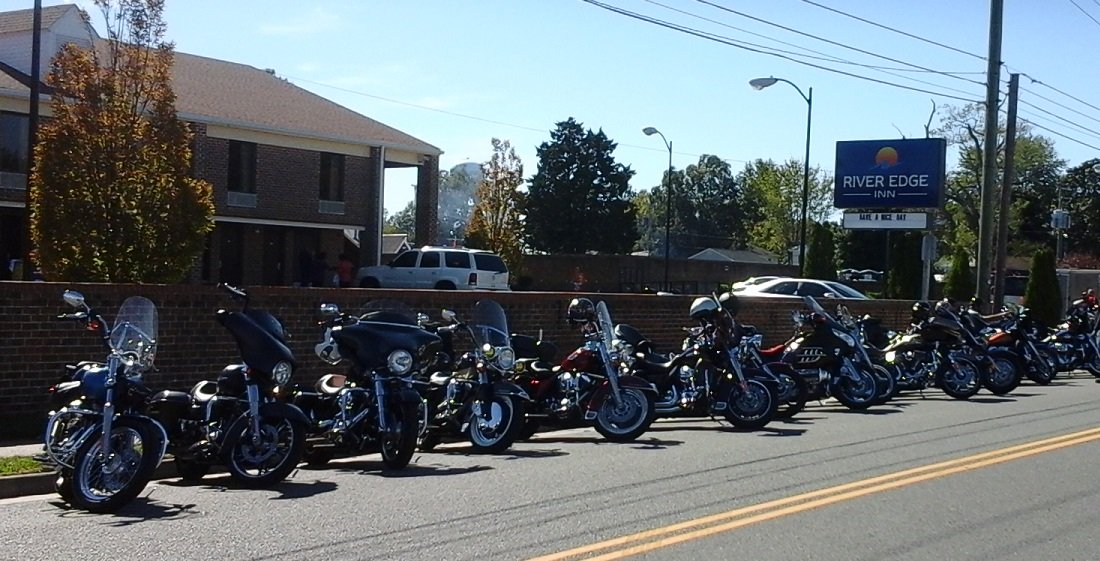 back to top
Bikefest Merchandise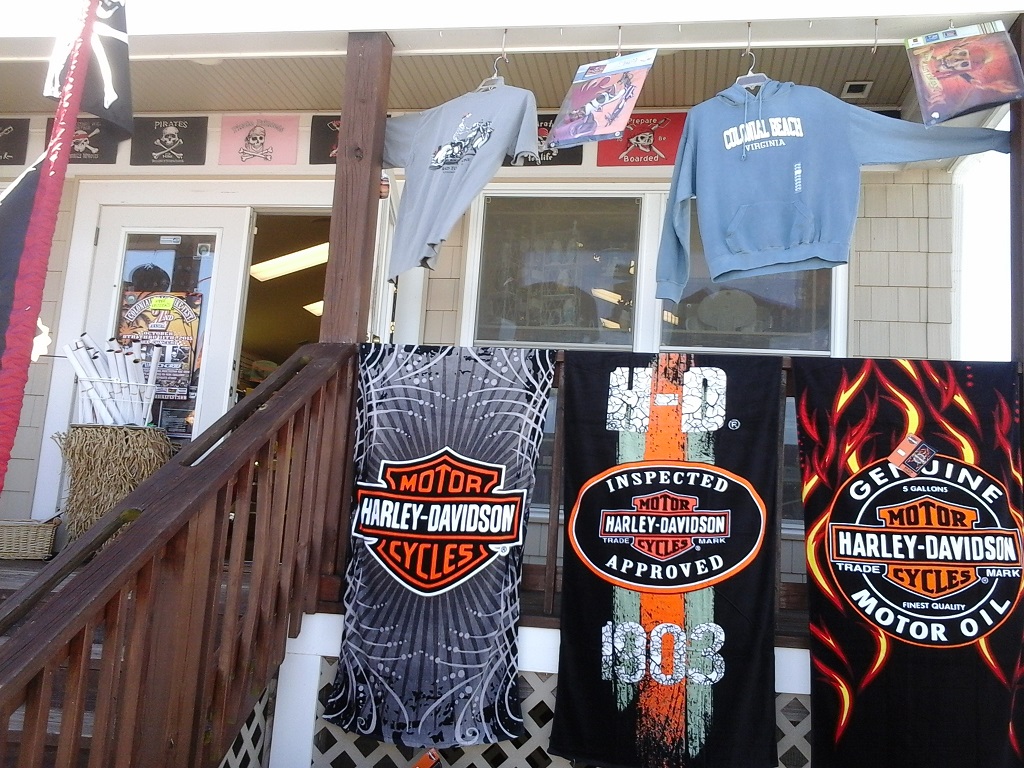 Official merchandise will be available at various locations around town.
back to top

Return from Bikefest to the Events page