Restaurants for your
Dining Pleasure
Whether you're looking for restaurants serving seafood, Italian, Thai, barbecue, Chinese, pizza, steak or good old-fashioned comfort foods, Colonial Beach has an eatery to tickle your taste buds.
Click Here to Read Reviews, or Share Your Restaurant Review
1st Stop Meat Market & Deli, 912 Colonial Ave. 804-214-9244

Bobby K's Roadside Cafe, 4099 Kings Hwy., Oak Grove menu

Bowies Rt. 3, Oak Grove. 804-224-7578 (Reopened Spring 2013 as Bobby K's Roadside Cafe!)
Cocomo Joe's Grille in Colonial Plaza Grand Opening October 2, 2014 (former Papa John's Pizza location)
Dockside Restaurant and Tiki Bar on "The Point" 1787 Castlewood Dr. 804-224-8726
Domino's Pizza in the Beachgate Shopping Center 804-224-2334 (temporarily closed, October-December 2013. Reopened under new management)
Espresso Station Coffee 804-224-0045 now Tattle Tale Cafe
Fat Freda's on Hawthorn. 804-224-1211 hosted Cruise Ins on Fridays in Spring and Summer. (Closed December 14, 2013)
Happy Clam 804-224-0882 (formerly "The Landing") became The Lighthouse Thai & French 804-224-7580. 11 Monroe Bay Ave.
The Happy Clam location next to Wilkerson's on McKinney Ave. was heavily damaged by Hurricane Isabel in September, 2003.
High Tides on the Potomac Steak & Seafood and the adjoining "Black Pearl" Tiki Bar on the Boardwalk 804-224-8433 Closed January and February
Hunan Diner at the corner of Washington and Colonial 804-224-8754
Kelsea's Kitchen, 119 Hawthorn St. (former Fat Freda's location). 804-224-7075 Menu 1 Menu 2 Closed February 2015
Kittrell's Firehouse Chicken & Ribs 18620 Ridge Road and in Oak Grove Plaza, 2998 Kings Hwy. (mobile unit) 540-295-3886
Ledo Pizza & Pasta in the Beachgate Shopping Center 804-224-5336
Lenny's Restaurant, 301 Colonial Ave. 804-224-9675
The Lighthouse Thai & French cuisine 11 Monroe Bay Ave. 804-224-7580
McDonald's 800 McKinney Blvd. 804-224-9255
Nancy's Ice Cream Shoppe 301 Washington Ave. 804-224-1212



Ola's Country Kitchen 1010 McKinney Blvd. 804-224-9050
Papa John's Pizza 731 Colonial Ave. 804-224-4040 (Closed May 2014)
Riverboat on the Potomac 301 Beach Terrace 804-224-7055
Sand Castles Ice Cream & Deli 804-224-0600 (now Denson's Grocery & R&B Oyster Bar, 117 Washington Ave.)
Sea Side Thai & French on the corner of Washington and Wilder. 804-224-2410 Check out their Pad Thai!
Shady Lane Crab House 119 Hawthorn Street COMING SOON!
Shady Lane Seafood 20699 Ridge Road 804-224-7878
Sher's Snack Shack 323 First Street (behind Ola's) "Home of the Empanada"
Sweet Tastin' Bakery in Colonial Plaza. 301-704-8952 or 804-224-9002 (Closed 2013)
Tattle Tale Cafe on Washington Ave. serves coffee and gourmet entrees and appetizers. 804-224-0045
Tides Inn Market on Washington Ave. 804-214-9352
Top's China in the Beachgate Shopping Center 804-224-2828
Wilkerson's Seafood Restaurant in Potomac Beach on McKinney Ave. 804-224-7117
Willey's Ribs 18480 Ridge Rd. 804-224-7427 (Closed April 2014)
Wingz & Thingz in Oak Grove Plaza coming soon Note: This Hot Wings shop never opened.


My favorite dish at Dockside is the sauteed chicken breast medallions with angel hair pasta. Absolutely yummy! Maybe they'll add it back onto the menu. I've also had the steak quesadillas. The last time I ate there I got the fish tacos with dirty rice. Yum! I also like to go there to hang out with friends and listen to the bands play. They have a real nice setup as far as indoor and outdoor seating. I can even tell when they have bands playing when I'm at my house, as the sound carries across the water.

When I eat at High Tides, I usually get the Commander Quesadillas. It's on the appetizer portion of the menu, and it makes for a great meal. Indoor or outdoor dining with a great river view (they're right on the Boardwalk) is offered. Inside, there's a cozy fireplace area for chilly days. They are closed for the winter months (end of December to the first week in March).

Coffee from Espresso Station (now Tattle Tale) is a great pick-me-up and you can grab a bakery item (or two) to compliment your cup o' Joe.

Hunan Diner has great General Tso's chicken. That's usually what I order when I go there. Half the time I eat in the dining room, and the rest of the time I order take-out.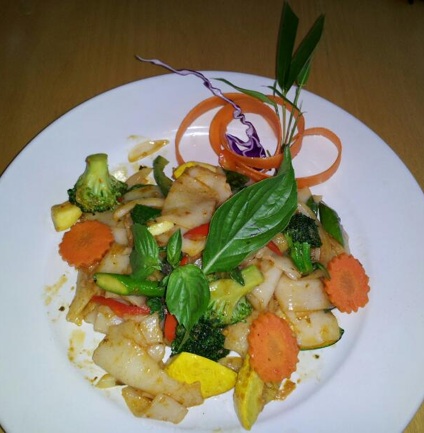 Drunken Noodle at The Lighthouse
What's Your Favorite Restaurant in Colonial Beach?
Whether you like seafood, Thai, Italian, Chinese or just great comfort foods, Colonial Beach has a restaurant that serves it up. Where's your favorite place to eat at the beach?
Your Favorite Colonial Beach Restaurants
Click on the links below to read about visitors' favorite places to dine in Colonial Beach.
List of Bars in Colonial Beach.
Return from Restaurants to Colonial-Beach-Virginia-Attractions.com Home