No Moon At All
The very cool backstory of a jazz standard called "No Moon At All" which, as it turns out, was composed right here in Colonial Beach!
Here's how it happened, as told by Marcia B. Upshaw, daughter of HAM radioman Frank E. Brooks who was living with his family in Colonial Beach at the time.
(Note that HAM is a term used for amateur radio operators. My daddy was one as well!)


"Ya' know how your parents would tell you about something that happened and it's rather fantastic and you go, "Yeah, Okay" and file it away as nonsense. Weelll, I've got one that I found out today - isn't.

Back in 1947 a songwriter and HAM radioman named David Mann was visiting Colonial Beach with a friend of his. Being a fellow Ham, Daddy knew him. One night he and his friend got 'three sheets to the wind' without a boat. There were no street lights then and they got very lost. Of course, in those days hardly anybody locked their doors and definitely not a church! They stumbled into St. Mary's Church and sat down at the organ, cranked it up and wrote a song called, "No Moon at All" because ... yes, you got it, there was no moon at all that night.

While listening to RadioXM today - Wait! Wha'? - there it was - "No Moon at All" being sung by Doris Day! I looked it up and it was written in 1947 by David Mann with Redd Evans. Sometimes you just can't trust your parents to not be pulling your leg!"

Here's a pic of the church where the song was composed.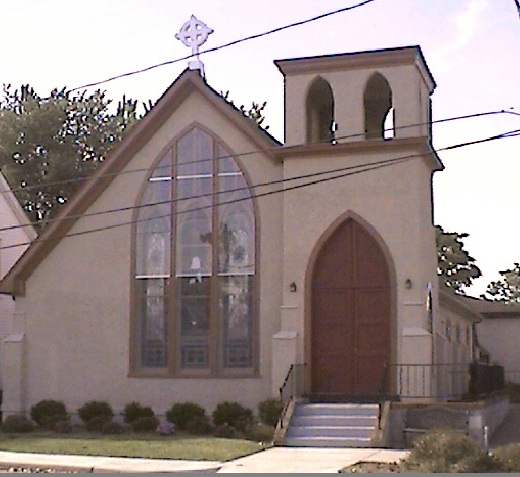 St. Mary's Episcopal Church
No Moon At All - sung by Doris Day
Musicians: George Siravo - leader, Anthony 'Tony' Mottola - guitar, Robert 'Bob' Haggart - bass, Norris 'Bunny' Shawker - drums, Robert E. Kitsis - piano, Nuncio 'Toots' Mondello - tenor saxophone, Melvin 'Red' Solomon - trumpet, Muni Morroe - trombone, Arthur Drelinger - clarinet.  Recorded on November 26, 1947 at Columbia Studio, 30th Street, New York, New York.

This song has been covered many times by various artists such as the Ames Brothers, Andre Previn, Jerry Vale, Milt Jackson, Alex Welsh, and Mari Wilson.

Doris Day was the first in 1947 and the King Cole Trio that same year. In '53 the Page Cavanaugh Trio released their version, and in 1955 it was covered by Julie London, Betty Carter & Ray Bryant, Anita O'Day and Count Basie and His Orchestra. 1956 saw covers by Barbara Carroll, and the George Shearing Quintet with String Choir. There were numerous recordings in 1957 as well, by Jeri Southern, Lucy Reed and Lita Roza. In '58 Mary Ann McCall recorded a version as did the Brazilian Jazz Quartet. The incomparable Mel Torme collaborated on it with the Russell Garcia Orchestra in 1960 as did Rita Rey & the Pim Jacobs Trio. The amazing Ella Fitzgerald made a recording of the song in 1962, as did Nana Mouskouri. 1964 saw Nada Knezevic's version. Warren Kime & the Brass Impact Orchestra covered it in 1968.
More recent recordings included:
1994 - Karrin Allyson
1999 - Liz Antony (with Jerry Conrad and his orchestra)
2005 - Brad Mehldau Trio (instrumental)
2007 - Barbara Lee
2008 - Belinda Underwood
2010 - Rebecca Martin

Diana Krall recorded it recently in 2017. 
It is incredible to see how many famous musicians have recorded versions of the song, written right here in an historic church in little 'ol Colonial Beach!

Special thanks to Marcia Upshaw for granting me permission to post the story here on the website.
Return from No Moon At All to History

Return to the Home page