Come and Ride the Colonial Beach Trolley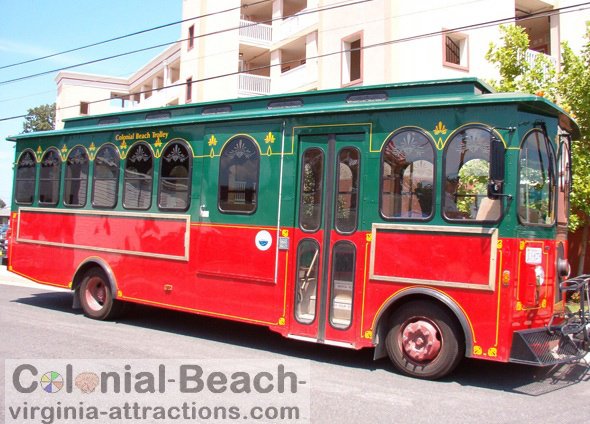 Colonial Beach Trolley in front of Potomac Renaissance Condos
Bay Transit Driver Places First in Competition
Trolley at entrance to Municipal Pier
The Colonial Beach Trolley runs from late May through early September and makes about 20 stops along it's route. It's so much fun to ride! What a great way to get around town for just a little bit of money. There's plenty of space for all your gear, too. Shopping bags, kids, whatever you've got with you.
Service hours are 11:00am - 7:00pm on Saturdays and Sundays. For Holiday weekends (Memorial Day, July 4th and Labor Day) it runs on Saturday, Sunday AND Monday from 11:00am - 7:00pm
Here's a list of all the stops with the time (after the hour) that it stops at that location.

:00 Colonial Beach Municipal Pier entrance
:02 High Tides Restaurant and Black Pearl Tiki Bar
:06 The Bell House former Bed & Breakfast
:09 Wakefield Motel
:14 Dockside Restaurant & Tiki Bar
:16 Castlewood Park
:17 Boathouse Marina
:18 Nightingale Motel & Marina
:20 The Lighthouse Restaurant and Bayside Marina
:21 Corner of Hawthorn and Washington (Museum, Library, Suki The Cuisine
:23 Tides Inn Market 
:25 Riverboat on the Potomac and Town Hill
:28 7-11 on Colonial Ave. next to CB Suds Car Wash
:30 Colonial Beach Plaza Shopping Center
:32 Beachgate Shopping Center (Food Lion)
:35 The Meadows Apartments
:40 Wilkerson's Restaurant
:42 1st & McKinney (Ola's Restaurant, McDonald's)
:45 1st & Jackson
:55 River Edge Inn
Please note that the Trolley will not run its route during times when a Parade is taking place, such as the Potomac River Festival grand feature parade.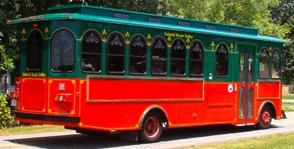 Return from Colonial Beach Trolley to Things to Do & See