Hotels Colonial Beach

Instead of giant hotels Colonial Beach offers a range of accommodations, everything from Victorian Bed & Breakfast Inns to an art-deco style motel, you're sure to find a great place to stay for your vacation here. 

The Beachgate Inn is the first one you'll see as you enter the area. It will be on your right hand side as you come in from Rt. 205. It's located at 800 Colonial Avenue, and is geared more towards long-term residents. Note: Closed January 2013.

The rest of the hotels Colonial Beach has are on the water, with either Potomac River or Monroe Bay views!

The old Days Inn later the Beach Inn which is now the River Edge Inn has 60 rooms (all recently renovated), free parking, high speed wireless internet, and a pool. Within easy walking distance to many of the local attractions, it's one of the largest hotels Colonial Beach has to offer.
New Hotels Colonial Beach
Just next door on Town Hill, we'll soon see a new boutique hotel with completion slated for 2024 as part of the Dodson development project.
---
Ellie Carruthers ran a fine (and the very first!) motor court in town which was open from May 27th through September 15th each year at 11 N. Irving Avenue. Doc's Motor Court is located at the beachfront. Here's a cool video about it! It sold in 2020 and is being renovated in preparation for reopening!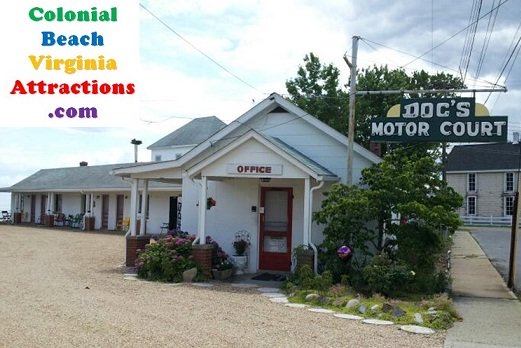 If you don't want to be too far from the boat, Nightingales Motel & Marina offers a slip for your boat and sleep for you! They're open daily from April to early November and will spoil you with five air-conditioned rooms, cable TV, boating facilities, bike rentals and a great Thai & French restaurant right next door. 101 Monroe Bay Avenue. 804-224-7956

The Riverview Inn (closed in 2015 and under renovation until 2017) will take you back in time with it's retro look. It's got a futuristic side as well. This property reopened and is open daily year-round beginning in October of 2017 (just in time for Bikefest!) and was often a stop on the monthly 2nd Friday ArtWalk. You can find it at 24 Hawthorn Street, not far from the Colonial Beach Municipal Pier.
Robert and Kelly Vaughn did a great job and took it back to the original colors it appeared in after it was first built. There are 21 rooms and they can be rented by calling 804-224-4200. 
Riverview Inn "Before"
Just around the corner from there you'll find the 20-room waterfront Wakefield Motel at 1513 Irving Avenue. It's open year-round and offers kitchenettes in most rooms, cable TV and a private pier. 804-224-7311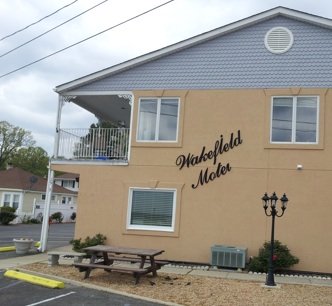 Here are even more places to stay in the area:

A large number of vacation house rentals with a variety of sizes and styles from a sprawling farmhouse to a studio bungalow.
Over half a dozen Bed & Breakfast Inns call Colonial Beach their home.

Cabins are available at Ingleside Vineyards, Stratford Hall Plantation and the Westmoreland State Park.

If you're up for a camping adventure, we've got that too. Lots of local spots for RV'ers and tents at venues like the state park as well as quaint riverside campgrounds.
Area marinas offer transient slips for boats of all sizes.


So, you can see that Colonial Beach has plenty of lodging of all shapes and sizes.


Return from Hotels Colonial Beach to the Home page