Here are the 2016 size/possession limits in PDF format.

You can also check with Marine Resources or local tackle shops for fishing regulations.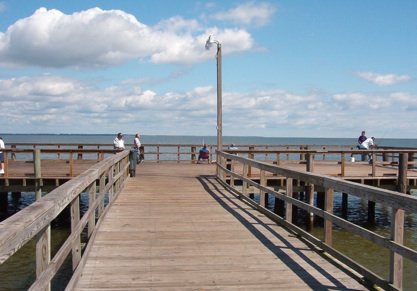 Colonial Beach Pier
Ken's store can help you get set up.

Ken's Field & Stream
3708 Kings Hwy. (Route 3)
Oak Grove, VA 22443
phone: 804-224-7100

Ken's is a Game & Inland Fisheries Agent (also sells freshwater/saltwater recreational fishing and hunting licenses). Ken's is an MRC Automated Agent, meaning they can run the automated licensing system for MRC licenses; they are the only agents that can sell restricted licenses like crab pots and fixed fishing device licenses (pound nets, fyke nets, staked gill nets, crab traps) and the new aquaculture licenses.

Not far from Ken's is the Colonial Beach Yacht Center at 1718 Castlewood Drive, next to Dockside Restaurant. They can often help with licenses, or check online with Virginia Department of Game and Inland Fisheries.

Crabbing from Pier at Colonial Beach Photograph - Colonial Beach, VA
Buy at AllPosters.com
Items to take with you for a fun day include your gear (rod, reels, bait, knife, pliers, tackle, etc.) as well as sun protection (sunglasses, hat, sunblock, etc.) and don't forget the munchies! Bring a cooler with ice and your favorite snacks and drinks. You might also like to have a camera with you to have a visual record of your fun time out on the pier.


Local Pier Fishing Spots:

Colonial Beach Municipal Pier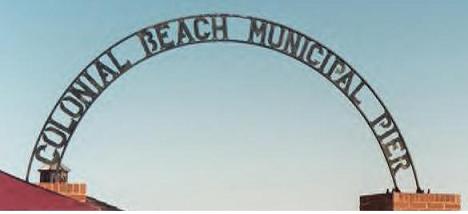 From Route 205, turn onto Colonial Avenue there at the McDonald's, then take a right onto Washington Avenue at Hunan Diner. Make a left on Hawthorn Street at Shady Lane Crab House and you'll see the pier at the end of the road.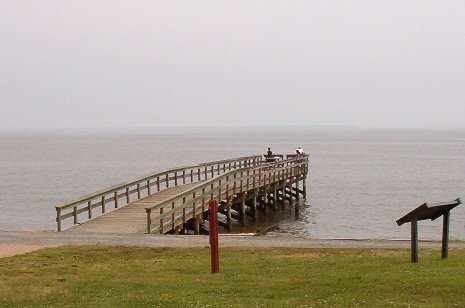 Pier Fishing at Westmoreland State Park

From Colonial Beach, take Rt. 205 towards Oak Grove, turn left onto Rt. 3 and follow the signs.  Improvements were completed in 2001. The ramp is handicap-accessible and is open to all users of the Park. Types of fish often caught here are croaker, spot, white perch and striped bass. The site is also a good spot for crabbing. The Park offers restroom facilities and a snack bar (seasonal). Boat ramps at the Park provide access to the upper and middle Potomac River.


Cat Point Creek Heritage Park Resort Pier 2570 Newland Road, Warsaw, Virginia 22572. From Colonial Beach, take Rt. 205 towards Oak Grove, turn left onto Rt. 3, turn right onto Flat Iron Road and follow the signs to Heritage Park.

...and further on down the road...

Virginia Beach Fishing Pier 14th Street, Virginia Beach, VA 23451 phone (757) 428-2333 or e-mail vabvc@vbgov.com. On the boardwalk in a resort area. No fishing license required. Hours vary depending on the season. Pier operates from April - October. Call for fall/spring hours. Open 24/7 from Memorial Day to Labor Day.
What pier fishing setup do you use?
What's your setup look like for pier fishing? If you've got a picture, include that too.
What Other Fishermen (and Women) Have Said
Click below to see contributions from other visitors to this page...

Great Catch

Had a great day when this was caught! My tip? Come early and be patient!!
GOT FISH? Not rated yet
Catchin' Catfish on the Town Pier. Katrina's Reply: Great shot, Lynn! Thanks for sending this in. Looks like y'all had a fun day of pier fishing …
You can also go out on the water with firms like Potomac River Charters.

Check out some other Colonial Beach fishing locations
Read the latest Fishing Reports
Return from Pier Fishing to the Home page