Colonial Beach off season

Colonial Beach off season is still a great place! While the summer fun usually winds down after the big Labor Day weekend in early September, there's still lots more in store to the end of the year and beyond!

The long-running two-day Boardwalk Arts and Crafts Festival in September is a must-see and one of the Town's largest annual events.

The Columbus Day weekend in October brings Bikefest, the nearly week-long celebration for motorcycle enthusiasts from places far and wide. This event began in 2014.
There are also various Oktoberfest parties and a Fall Festival on Town Hill. You'll find tons of Halloween events and activities like the annual Golf Cart Parade and special spooky events at Stratford Hall Plantation.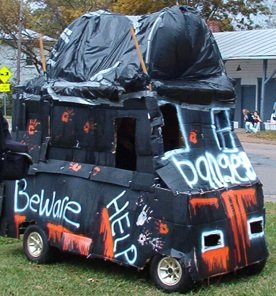 Halloween Golf Cart parade entry
Mid-November is the big annual weekend-long Rockfish Tournament.
Also in November:
Some events at Colonial Beach Dragway to wrap up their racing season
Harvest Parties
Veterans Day Memorial Service at "The Cannon" at 11:00 a.m. on 11/11
Fall Barrel Tasting at Ingleside Winery
Craft Shows and Holiday Bazaars at the high school, churches, fire house and rescue squad buildings
NARFE Big Band Dance at the Moose Lodge
Towards the end of the month, bountiful and delicious Thanksgiving Buffets are served at area restaurants such as The Riverboat, High Tides and Wilkerson's Seafood. Stratford Hall has a wonderful Thanksgiving Dinner with two seatings. It's a sell-out every year, so make your reservations early!

December has the popular Santa's Wonderland and Winter Festival, an event which features the Christmas Parade, Lighted Boat Parade and more!


High Tides restaurant usually closes for the season at the end of this month and reopens in early March.

New Year's Eve parties and Dinner Buffets at many venues around town.
January. This is the month when we usually get some snow, so there's a lot of snowman-building and sledding.

Polar Plunge on New Year's Day at The Riverboat raises funds for Colonial Beach Public Schools. Dockside hosted this event for 2015 through 2017.

Birthday celebration for General Robert E. Lee at his birthplace, Stratford Hall Plantation on or around the 19th. There is usually free admission, cake and people dressed in period costume.
February. Valentine's Day weekend often falls on or near the 2nd Friday ArtWalk event and Colonial Beach is a perfect getaway spot for you and your sweetheart.
Don't let me catch you saying,
"There's nothing to do in Colonial Beach off season."
Year-Round events include:
Various workshops, retreats, seminars and classes
Live bands on Saturday nights at Dockside
Second Friday ArtWalk
Sunday Breakfast and Brunches at Lenny's, Ola's, Bobby K's, Riverboat, Dockside and more.
Cooking Classes, Dinner & a Movie and Vino & Vittles events with live music at Tides Inn Market
Comedy Nights and Celebrity Impersonator shows at The Riverboat
Events at the Library include computer classes, mobile maker lab, paws for reading, storytime and many more events like Tea Time, Movie Night and Reading Guild meetings.
Trivia Contest on Friday nights at Dockside
Estate Auctions by Gitie's at the former Willey's restaurant on most Friday evenings
Ford Museum open by appointment
Texas Hold 'Em Poker at The Riverboat

Bingo

Karaoke
...and more!


Return from Colonial Beach Off Season to the Events Calendar page