How Do You Celebrate Labor Day?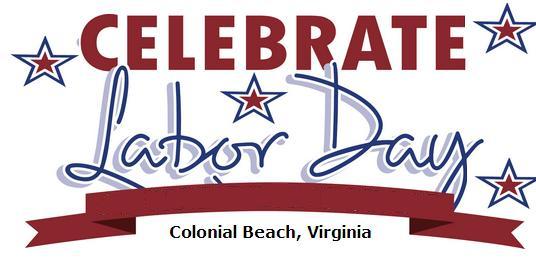 Labor Day Weekend 2021 Lineup:

Friday, September 3rd

7:00 p.m. - 
James Rose at High Tides
Rob Benton at Dockside
Tommy Tutone at Colonial Beach Brewing

Saturday, September 4th

10:00 a.m. -
Boardwalk Arts & Crafts Festival

12:00 p.m. -
B.A.M.M. Benefit concert

gates open 11:30

Anthem & opening ceremony 12:00

Music - Students Jordan & Chris 12:15

Music - Sally & Brian 12:15

Music - Sher Lee Performance 1:15

Music - Hard to Tell 1:25

Queenie Performance 2:20

Music - Scenic Roots 2:30

TOMMY TUTONE 3:30

Family Art Closes 3:30

Raffle and Silent Auction Closes 3:00

Winners announced 3:15

Monrovia Farms

 Hamburgers, 

Ball Park

 Hot Dogs,

Colonial Beach Brewery

 craft beers, Anheuser-Busch

beer products, and a variety of wines will be on sale.

VIP Golf Cart Parking

 in front of the stage is available at

$100 per space, limited to only 12 spaces

Family art programs will be open for kids as well as a

variety of games including cornhole, connect 4, and Jinga

Parking for cars will be $10 and $3 for golf carts
2:00 p.m. -
Cornhole Tournament and Fish Fry at The Grand event center, 719 Ferry Landing Road

3:00 p.m. -
Rob Benton at Dockside
6:00 p.m. -
Cruise-In at Ledo Pizza
The Scenic Roots at Colonial Beach Brewing
7:00 p.m. -
Bad With Names at High Tides
TBD at Dockside
9:00 p.m. -
FIREWORKS

Sunday, September 5th

8:00 a.m. -
Cars & Coffee Plus at High Tides

10:00 a.m. -
Boardwalk Arts & Crafts Festival

2:00 p.m. -
John Luskey at Dockside

6:00 p.m. -
Croquet games at Eleanor Park
The Dad Guys at Dockside
7:00 p.m. - 
Under the Covers at High Tides

***stay tuned to this page or the calendar on our website as events continue to be added***

---
Labor Day. Many folks don't have to work on this U.S. holiday. Often referred to as the unofficial ending to the Summer vacation season, the first Monday in September is a creation of the labor movement and is dedicated to the social and economic achievements of American workers. It's an annual national tribute to the contributions these workers have made to the strength, prosperity, and well-being of the U.S.A.

So, you see, it's much more than just a three-day weekend. The very first one was celebrated on Tuesday, September 5, 1882, in New York City by the Central Labor Union. The first Monday in September was officially selected as the day on which to recognize this "workingman's holiday" in 1884.

Later on came governmental recognition and by 1894, 23 other states followed suit and adopted the holiday in honor of workers.

The original plan was to celebrate with a street parade to demonstrate to the public the strength and spirit of the local trade and labor organizations. This parade was followed by a festival for the recreation and amusement of the workers and their families. These days, most folks use it as a "last hurrah" for a summer weekend vacation.

Colonial Beach is a great place to celebrate this occasion! Here's a list of just some of the events happening in our town that weekend: (see the Events Calendar for dates and times.
Return from Labor Day to Events