---
Northern Neck Beach Music Festival
September 9, 2023!
Gates open at 10:30am for general admission.
10:30 WWER Beach Music Hall of Fame DJ Craig Jennings gets the party started
11:00 The Feature Attraction Band hits the stage
1:00 Shag Dance Lessons with DJ Craig Jennings
1:30 Motown Butta brings the soul
3:30 Shag Dance Contest
4:00 The Catalinas perform in Colonial Beach for the first time
During the day we'll have a 50/50 raffle to benefit the Colonial Beach Foundation's Community Crisis Fund supporting local food pantries; first look and sales of the Foundation's new Colonial Beach ornament ($25) also benefits Community Crisis Fund; tent decorating contest, and the drawing for the $5,000 winner of the Building Community Raffle.
Food and beverages sold on site. Ingleside Vineyards & Winery wine sold by the bottle.
Reminders:
Bring a chair and/or blanket
For the enjoyment of others, please no items that will block the view of other guests in the main viewing lawn such as tents or large umbrellas
No outside food or beverages. However, you may bring sealed bottles of water (up to 4 per person)
No resuable water bottles unless empty on entrance
No dogs unless certified service animal
No smoking or vaping within 10 feet of festival grounds. Guests may leave and return to grounds with wristbands.
No refunds--event held rain or shine.
Have fun!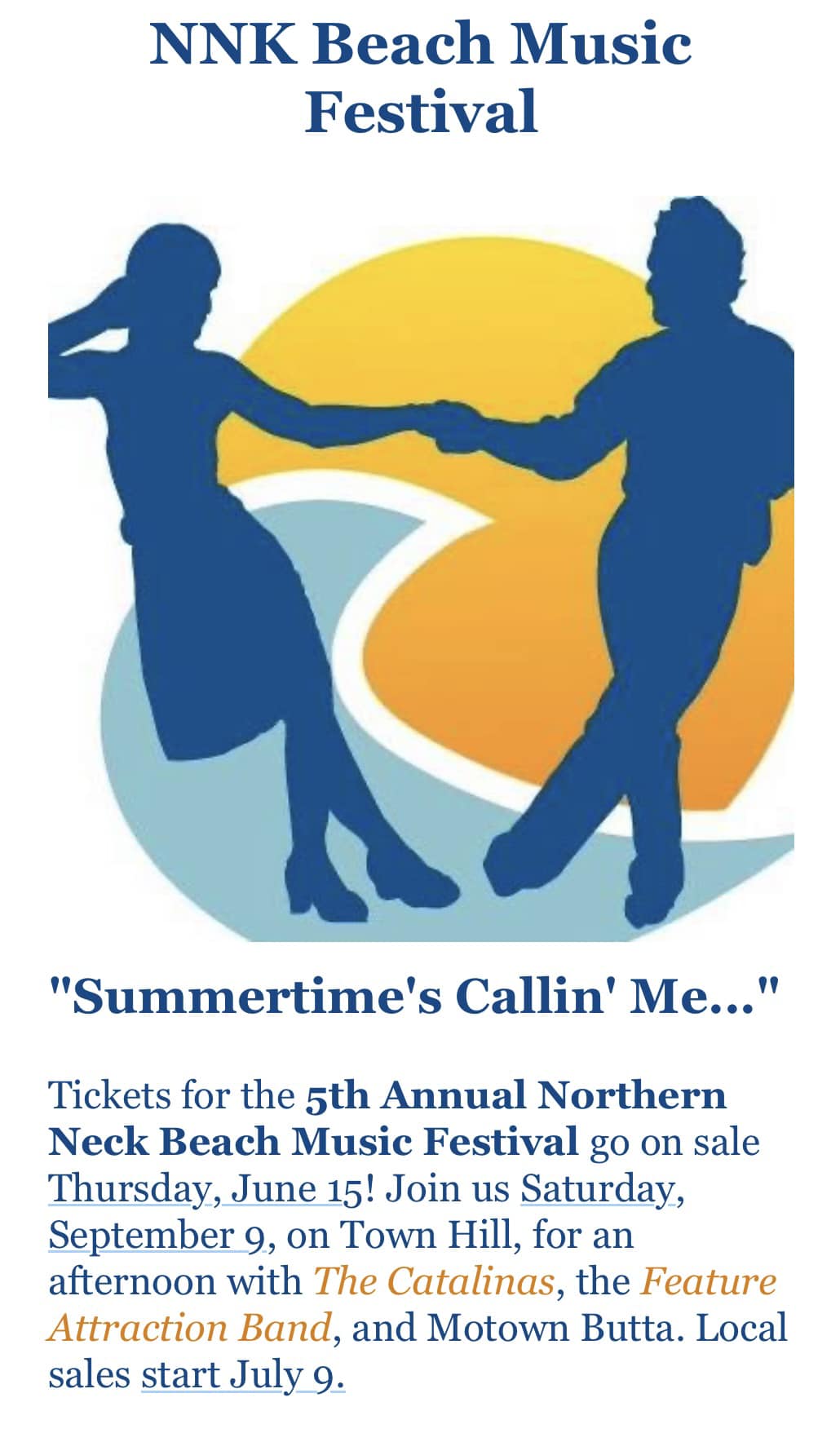 ---
I rounded the corner onto Washington Avenue and saw all the dancing happy people in the specially constructed sand dance floor in front of town stage, my jaw dropped! The place was hoppin' and I was instantly put into a happy mood hearing the sounds of the Carolina-style tunes coming from the live band stage.
I could smell the great food being cooked on the nearby food trucks and couldn't wait to dig in. This event was a rousing success. Trust me, you won't want to miss the next one!
For future events, the organizers planned on having merchandise vendors in addition to the food vendors. 
Stay tuned to this page for information on ticket sales and the lineup of musical performers,
---
Earlier Northern Neck Beach Music Festival events
2022s event: EARLY BIRD PRICING until September 1st is $39
Ticket prices will increase to $49 on September 2nd
Headlining The Northern Neck Beach Music Festival for the 4th year are the legendary The Embers.
The lead DJ will be the Shag Music Hall of Fame DJ  Craig Jennings from the "Beach Breeze and Grooves" show on WWER 88.1 FM.
Opening bands: The Feature Attraction Band and Motown Butta.

Great seafood from Denson's and Southern BBQ from Willey's.
Craft Beer, Wine and Beer.

Third Annual Northern Neck 
Beach Music Festival (2020) Postponed until 2021
Saturday, September 12, 2020
Time: 11:00 a.m. - 8 p.m.
Place: Town Hill
Details
---
Second Annual Northern Neck
Beach Music Festival
Saturday, September 14, 2019
Time: 11:00 a.m. - 8 p.m.
Place: Town Hill
Schedule

10:30 a.m. Gates open
11:00 a.m. Feature Attraction Band (Uncorked's full band)
1:30 p.m. Shag dance lessons
2:00 p.m. The Rhondels
4:30 p.m. Dance contest and silent auction
5:30 p.m. The Embers 
---
First Annual Northern Neck Beach Music Festival held on Saturday, September 22nd, 2018
Time: noon - 8 p.m.
Place: Town Hill
Live music featuring The Embers and The Rhondels

12 - 1: Shag Dance Lessons
1 - 4: The Rhondels 
4 - 5: Shag Dance Contest
5 - 8: The Embers 

Return from Northern Neck Beach Music Festival to Events

Return to the Home page