Colonial Beach Bars

There are a number of bars in Colonial Beach
Drinking establishments vary from riverfront to bayfront to inland and most have TV screens so you can catch your favorite sporting event.

Pasture restaurant in Richmond has drinks named for various cities and towns around the Commonwealth. The "Colonial Beach" is Vodka, Coconut Syrup, Lime and Soda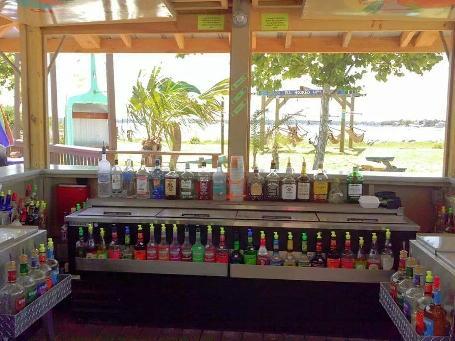 Tiki Bar at Dockside
Bars at the Beach
Here the places are, listed in no particular order:
Colonial Beach Brewing - the first brewery in town.
Hunan Diner Chinese restaurant has a bar right in the main dining room. 422 Washington Ave. Try "The Volcano"
The Lighthouse Restaurant and Lounge, which is located where the former Monroe Bay Landing used to be. Also formerly known as the Happy Clam which used to sit next to Wilkerson's on McKinney Blvd. until 2003 when Hurricane Isabel caused extreme damage. The Lighthouse is at 11 Monroe Bay Ave.

Riverboat On The Potomac is built out over Maryland waters, giving folks an excellent view of the river. There are a couple of bars in here, and even an onsite liquor store. 301 Beach Terrace.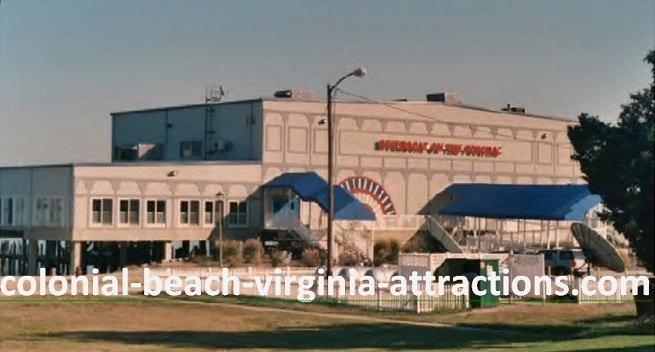 Riverboat on the Potomac
High Tides restaurant has a bar inside and outside next door at their riverfront "Black Pearl" Tiki Bar, which has a stage where bands play. 205 Taylor St.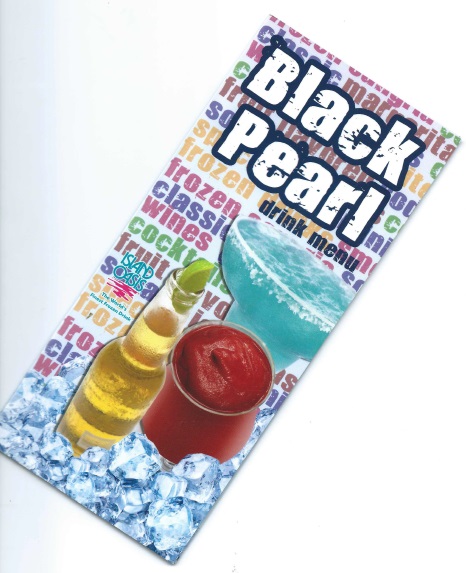 High Tides Black Pearl Tiki Bar Drink Menu Page 1  Page 2

At the end of "The Point" you will find Dockside Tiki Bar and they have an indoor bar area with a stage as well as a great outdoor patio with another stage, tables, umbrellas, swings and more. 1787 Castlewood Dr.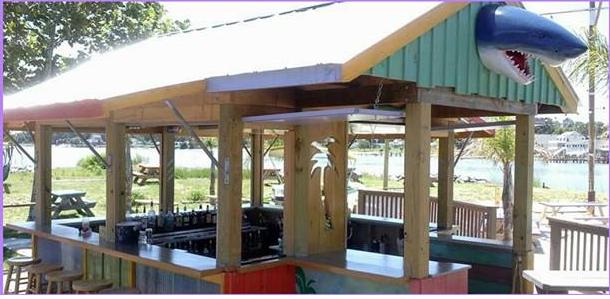 Dockside Tiki Bar
Wilkerson's Seafood Restaurant has a bar with a great view of the Potomac River. You can also see the Harry W. Nice bridge and the power plant on the Maryland side in Newburg. 3900 McKinney Blvd.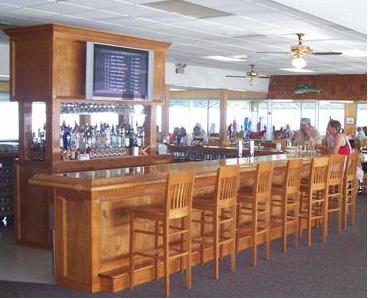 Bar at Wilkerson's Seafood Restaurant
The Four Seasons Restaurant in the Colonial Plaza Shopping Center on Colonial Ave. also has a bar.

The following buildings and bars are typically open only to members, and you would need to be signed in by a member as a guest. Sometimes they hold events which are open to the public. Keep an eye on the events calendar for details.

VFW (Veterans of Foreign Wars) post 10574: 107 Hawthorn St.
Moose Lodge #1267: 4780 James Monroe Hwy.
Eagles Aerie #4315: 517 Colonial Ave.
Elks Lodge: 719 Ferry Crossing Landing
American Legion: 27 Colonial Ave.
Return from the Bars page to the Restaurants page
See what Colonial Beach looks like at night