Business District Revitalization
Update 2020: The plans mentioned on this page are being thwarted somewhat due to the sale of many town properties.
https://www.motleys.com/for-sale/detail/for-sale-5-buildings-3-parcels-18-n-irving-ave-colonial-beach-va-22443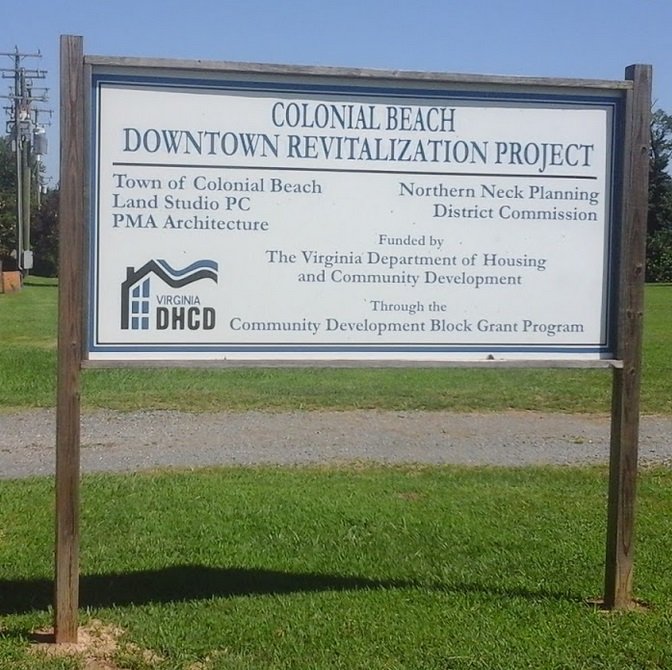 Around 2010, a group of citizens, business owners, nonprofit organizations and Town Leaders met with Land Studio, PC to come up with a Business District Revitalization plan.
Public input was welcomed and before long there were drawings and other renderings of a long-range plan for improvements.
It is exciting to announce that beginning in late 2015 the plan began to be implemented and work on the improvements is underway!

The Town is being assisted by the Northern Neck Planning District Commission
Work already completed includes:
Brick-paved crosswalks at Hawthorn and Washington
Posts installed to block off the end of Hawthorn (see photos below)
Boardwalk Benches and wastebaskets (see photos below)
Overhead power lines moved underground at Taylor and Hawthorn
New street lamps

Wayfinding signage
Listed below is a potential phasing program for the improvements to be made. Stay tuned here for further updates.

Business District Revitalization Project #1
Boardwalk enhancements from Hawthorn down to Lincoln. Replacement of the existing Boardwalk with new concrete walks. Overhead power lines will be relocated underground. The work is briefly mentioned in this article

Here is a picture of the foot of Hawthorn Street prior to the improvements:

Artist Rendering of possible improvements at foot of Hawthorn St.
photo courtesy Land Studio, P.C.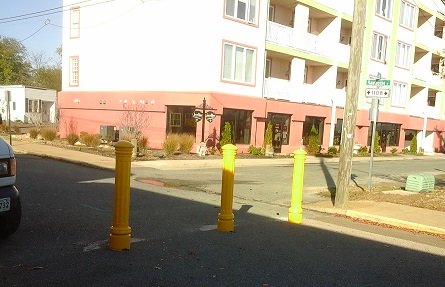 Posts near the entrance to the Municipal Pier
New Boardwalk Benches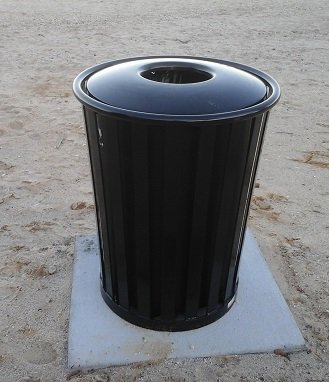 New Wastebaskets on the Boardwalk
Business District Revitalization Project #2
A Pedestrian Plaza at the foot of Colonial Avenue between the American Legion and the River Edge Inn.
Construction was scheduled to take place in October 2017 but has been on hold since then. Here is some info on the statues that were commissioned for the plaza. The project as released for bid entails construction of concrete boardwalk, concrete pedestrian plaza, interactive water feature, storm drainage, utilities, curb & gutter, landscaping, asphalt paving, Sadly, the "Splash pad" water feature had to be omitted for the final version of the project, which is underway as of September 2019. The plaza will also contain benches for seating.
Here's a newspaper article
Business District Revitalization Project #3
Improvements to Colonial Avenue including sidewalks, curbs and gutters, lighting, organized on-street parking and plantings. This only applies to the part of Colonial Ave. that is on the river side of Washington Ave.

Business District Revitalization Project #4
Town parking lot near the Riverboat.

Business District Revitalization Project #5
Taylor Street improvements.

Business District Revitalization Project #6
Open Space at the east end of Hawthorn Street to include new concrete walks, planting areas, lighting, etc. 
Business District Revitalization Project #7
Extends the boardwalk past the plaza at the end of Hawthorn Street down towards the public restroom building.

Business District Revitalization Project #8
Pier renovations at Hawthorn Street.
Business District Revitalization Project #9
Hawthorn Street improvements, much like what was done to Colonial Ave. in item #3 above. 
Business District Revitalization Project #10
Washington Ave improvements from Colonial Ave. all the way to Boundary St.
Business District Revitalization Project #11
A new pier at Colonial Ave. which will extend 500' into the Potomac River.