Edna E Lockwood 1889 'Bugeye' Ship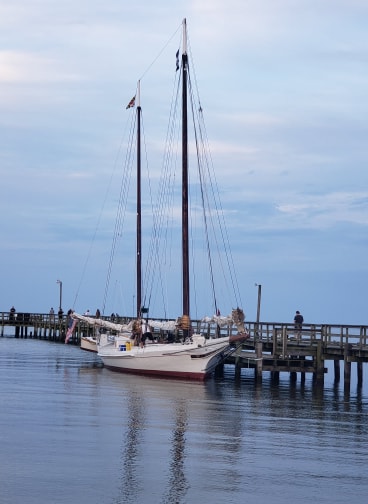 Edna E. Lockwood. Photo courtesy Sheila Noren.
Colonial Beach is so privileged to have the Edna E Lockwood visiting this summer during the Potomac River Festival. You'll be able to take a free deck tour of this fine vessel and learn about her, oystering and Chesapeake Bay boat building techniques from the staff and Captain Rose DiMatteo.
Scheduled hours are Friday June 7 through Sunday June 9 from 10 - 4 daily, weather permitting.
She is the world's last working nine-log 'Bugeye' style sailing ship, having served as an oyster dredger seasonally from 1889 to 1967 mainly on the Miles and Choptank rivers.
Built on Tilghman Island by noted boat builder John B. Harrison, she measures 53.6 feet in length, has a 15.3 foot beam and when she's not on tour, serves as the queen of the floating fleet at the Chesapeake Bay Maritime Museum in St. Michaels, Maryland. She was donated to the museum in 1973 by John R. Kimberly (of Kimberly-Clark company fame) underwent a top-deck restoration and was declared a National Historic Landmark in 1994.
National Historic Landmark Nomination
Photo Album
Origins of the 'bugeye' term for the style of the ship are unclear, but some think it traces back to a Scottish word for shellfish, "buckie,"

Edna E Lockwood Restoration
In addition to repair work performed in the 1970s when she was given to the museum, the ship underwent a major two-year restoration beginning in 2016 and towns all around the region will be able to see the fruits of that labor as she makes stops in 17 ports this summer. Look for her at the Colonial Beach Municipal Pier. Don't miss it!

Return from Edna E. Lockwood to Events