---
John Wilkes Booth captured not far from Colonial Beach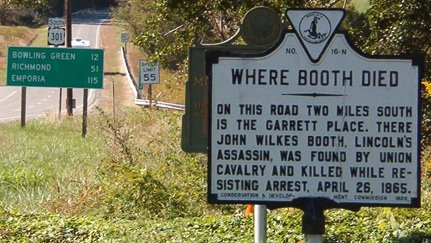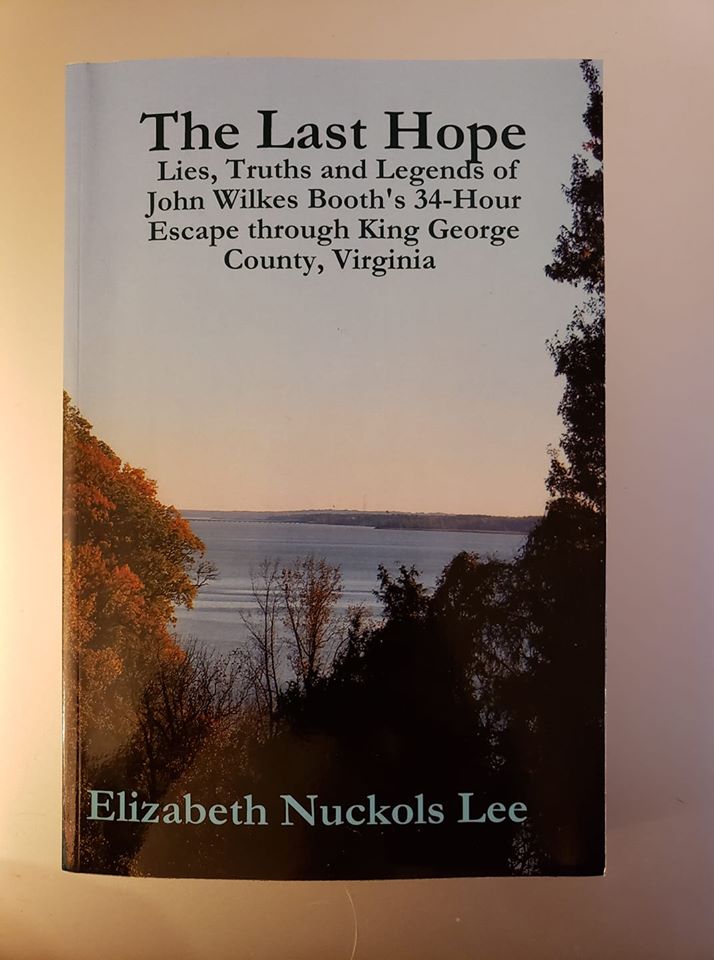 Elizabeth Nuckols Lee has written a book about the John Wilkes Booth escape route. It can be purchased by mailing a check for $28.50 payable to her to 10268 Gera Road, King George VA 22485.

Born on a farm near Bel Air, Maryland, on May 10, 1838, he was the ninth of ten children of Junius Brutus Booth (see photo below) and Mary Ann Holmes. John's parents had moved to the United States from Britain in 1821. His father Junius was one of the most famous actors on the American stage.
John took to the stage as well, and followed in his father's footsteps. In 1860 his career really took off and he was earning great money.
On April 14, Booth stopped by at Ford's Theatre to pick up his mail. At that time, he was told that President Abraham Lincoln was planning to attend the evening performance there of the play entitled Our American Cousin. It was during the performance of that play at 10:15pm that John Wilkes Booth shot him.
Just a short time later, at around midnight, Booth and his accomplices stopped at Surratt's Tavern in Maryland to pick up some weaponry. The next day, the group stopped at Dr. Samuel Mudd's house to have John's injured leg set. A day after that, on April 16th, they sought assistance at the home of Samuel Cox. He wasn't much help so from April 16 through the 21st, they hid in the woods near the Potomac River in Maryland.
John Wilkes Booth Captured in Virginia
On the 22nd, they set sail for Virginia but mistakenly went upriver rather than across. Eventually, they found their way and found a cabin on Lucas' Farm to sleep in the next day. On April 24, they crossed the Rappahannock River and arrived at Garrett's Farm near Port Royal, Virginia and the next day, the group was captured by soldiers there at the farm and John Wilkes Booth was shot.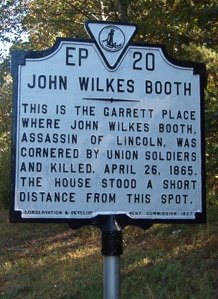 ʳᵒᵃᵈˢⁱᵈᵉ ᵐᵃʳᵏᵉʳ ⁱᵐᵃᵍᵉˢ (c)2009 K. Price

Private tour for up to six people.
Perhaps you can land a spot on the Surratt Museum's wildly popular 12-hour Escape Route Tour by bus which is offered in April and May and again in the Fall during September and October. 
March 2014 The area was marked as protected. Do Not Enter. It was still possible to park beside the Virginia Historical Highway Marker which tells the story of Booth's capture, but the area across Route 301 in the median was not accessible. More details here
ʳᵒᵃᵈˢⁱᵈᵉ ᵐᵃʳᵏᵉʳ ⁱᵐᵃᵍᵉ (c)2014 K. Price

Return from John Wilkes Booth Capture Site to Day Trips from Colonial Beach