Potomac Beach, Colonial Beach's Neighbor
Route 205 through Potomac Beach
Blink and you might miss it, Potomac Beach is just down the road from Colonial Beach. You'll know you're about to get there if you're driving on Route 205 and the speed limit signs give you the signal to drive slower. The official coordinates are latitude 38.27 and longitude -76.986. Elevation above sea level is 20 feet.
Wilkerson's Seafood Restaurant at 3900 McKinney Blvd. can be found here. The Happy Clam Restaurant stood right next door to it for years until Hurricane Isabel demolished it in 2003. I'll never forget driving through Potomac Beach after the storm had passed. The amount of debris that was washed over the road and sitting on the other side was just incredible.
Speaking of across the road, there's a subdivision right across from Wilkerson's that's been in the works for years called Potomac Crossing. I'm anxiously awaiting its arrival as I have seen a picture of the site plat and it is very similar to the subdivision I grew up living in.
There are about 60 swans that are already living in this area during the winter, according to a Virginia Department of Game and Inland Fisheries swan-tracking diary entry. They hang out at nearby Rosier's Creek. I don't know how they'll feel once the houses start coming in, but I hope they stick around.
Prior to the opening of the Route 301 bridge (Harry W. Nice Bridge) across the Potomac River in 1941, people arrived here in Potomac Beach via ferry which came over from Morgantown, Maryland. They ran an hourly service in the summertime and in the winter it was an hour and a half. Fees were $1.00 per car and driver, and additional passengers traveled at the rate of 25 cents each, up to a maximum of $1.50.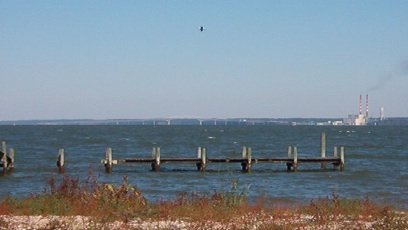 "Pier-ing" across the Potomac to the Power Plant
There was talk for awhile of building a park in this area, on the beach next to Wilkerson's. The views from here are great! On a clear day you can see straight across the river to Maryland and on semi-clear days you can still make out the Route 301 bridge and the power plant on the other side of it in Newburg, MD.
Return from Potomac Beach to Colonial-Beach-Virginia-Attractions Home