Tides Mill Stream Bridge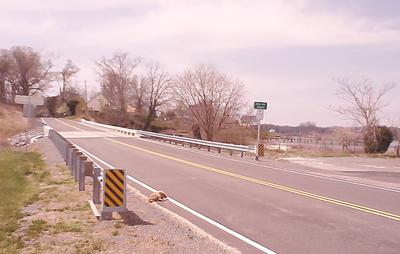 Completed Bridge (w/roadkill)
The Tides Mill Stream Bridge replacement on Route 205 in Colonial Beach was done during the winter of 2013.

Road closures and detours frustrated residents, but the end product is nice. Here are before and after pictures.

The bridge was constructed using a technology called Hybrid Composite Beam (HCB) developed by John Hillman, P.E. A 47-foot span was installed.
Here's a page with information and pictures on the load testing.
Join in and write your own page! It's easy to do. How? Simply click here to return to Colonial Beach, Virginia Pictures.