Town of Colonial Beach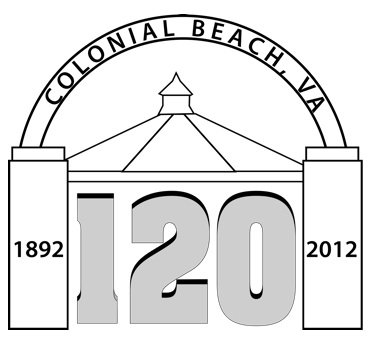 The Town of Colonial Beach was incorporated on February 25, 1892. 2012 marked the 120th anniversary of this momentous occasion, and it was marked with a proclamation by the Mayor, Fred Rummage, and we at Colonial Beach Virginia Attractions dot com had a members-only celebration at The Bonus Room at 108 Hawthorn.
The giant birthday card from the party is housed at the Museum on Hawthorn Street. The cake was made by Antebellum Sweets and it was delicious! We ate, drank and reminisced about the history of the town of Colonial Beach, discussing things like it's founding, which apparently took place in 1865. Another account states that it was named and laid out in 1882 by Henry J. Kintz on a 650-acre farm between Monroe Bay and the Potomac River. A post office was established two years later.
On February 25, 1892, the Virginia General Assembly granted the town its charter, which authorized the mayor and four councilmen to appoint a clerk and a town sergeant. You can read more about the history on this page. Here we are more than 120 years later and though there have been heydays, some say the best is still to come.
The Town of Colonial Beach offices
Former location: 18 N. Irving Ave., Colonial Beach Virginia 22443
Current location: 315 Douglas Avenue
phone: 804-224-7181 website: www.colonialbeachva.net
Return from Town of Colonial Beach to the Home page