Colonial Beach Playhouse
Colonial Beach Playhouse Auditions
Savannah Sipping Society

Audition will be by reading from the script. If you are interested in auditioning, two pages of the script will be emailed to you.
Audition dates: Thursday, June 17 and Friday June 18 at 7pm. Be early or on time. It is very important to appear on one of these dates. Even better if you can make both nights. If it is impossible to make it on one of these dates, a private audition can be scheduled at a time convenient to you but preferably before June 18.

The auditions will be held at 108 Hawthorn. Social distancing will be observed.
CAST: Four women are needed. Roles are:
RANDA COVINGTON. 49. High strung. Perfectionist. Career woman.
DOT HAGLER. 69. Daffy and endearing.
MARLAFAYE MOSLEY. 57. Earthy, boisterous. Good ol' Texas gal.
JINX JENKINS. 53. Energetic. Self confident. Gregarious. Manages a makeup store.

REHEARSALS: If cast you will receive a script immediately. Rehearsal dates and times will be arranged at the convenience of the cast.
PERFORMANCES: The performance dates (probably nine performances on three weekends) have not yet been finalized. Dates will be determined in part by the availability of the cast members. Performances will certainly be not earlier than September and no later than November.

CONTACT US: Please email us at cbpaa.info@gmail.com and include your name, phone number, and email. Also indicate which date or dates you will attend, or if you wish a private audition.
We apologize for the short notice, which is due not only to Covid restrictions but to the fact that we are building a theater of our own. This will be the first play staged in our new facility.
---
No productions were staged in 2020.
Since the summer of 2017 when the Colonial Beach Playhouse got underway, they have been delighting theater-goers with their acting and production talents.
Colonial Beach Playhouse Upcoming Productions:
Scheduled for September 2020

Rabbit Hole
Becca and Howie Corbett have everything a family could want, until a life-shattering accident turns their world upside down and leaves the couple drifting perilously apart. RABBIT HOLE charts their bittersweet search for comfort in the darkest of places and for a path that will lead them back into the light of day.

Playing August 2 - 25, 2019:
CHARLOTTE'S WEB adapted by Joseph Robinette, based on the book by E. B. White
Youth oriented, light-hearted drama.
The classic childhood story of Wilbur, the irresistible young pig, and how he is saved by Charlotte the spider. A beautiful play about friendship, for the whole family.
Tickets
---
Playing October 4 - 27, 2019:
NUNSENSE by Dan Goggin
Musical Comedy. The Little Sisters of Hoboken stage a fundraiser to raise money to bury sisters accidentally poisoned by the convent cook, Sister Julia (Child of God).
Tickets
---
Playing December 6 - 22, 2019:
A NICE FAMILY CHRISTMAS by Phil Olson
Comedy/Farce
On Christmas Eve, a young reporter is assigned to do a story on a typical family Christmas – his own family's Christmas. When they learn that he's writing an article about them, the fruitcake hits the fan.
Tickets
---
The group is a Community Theatre managed by the Colonial Beach Performing Arts Association. They are an all-volunteer nonprofit corporation in Virginia. Their inaugural event was a "CB's Got Talent" show in August of 2017 which was well-attended and a big success. The CBPAA has a goal of staging numerous different types of performance events such as recitals, magic shows, comedy shows and the like.
Past Performances:
(cancelled) June 7 - 20, 2019:
THE FOREIGNER by Larry Shue
A Georgia fishing lodge is the scene for hilarity when a regular customer brings along a pathologically shy friend and tells everyone that his friend speaks no English. As a result, the friend overhears things he shouldn't and foils a wayward minister's sinister plans.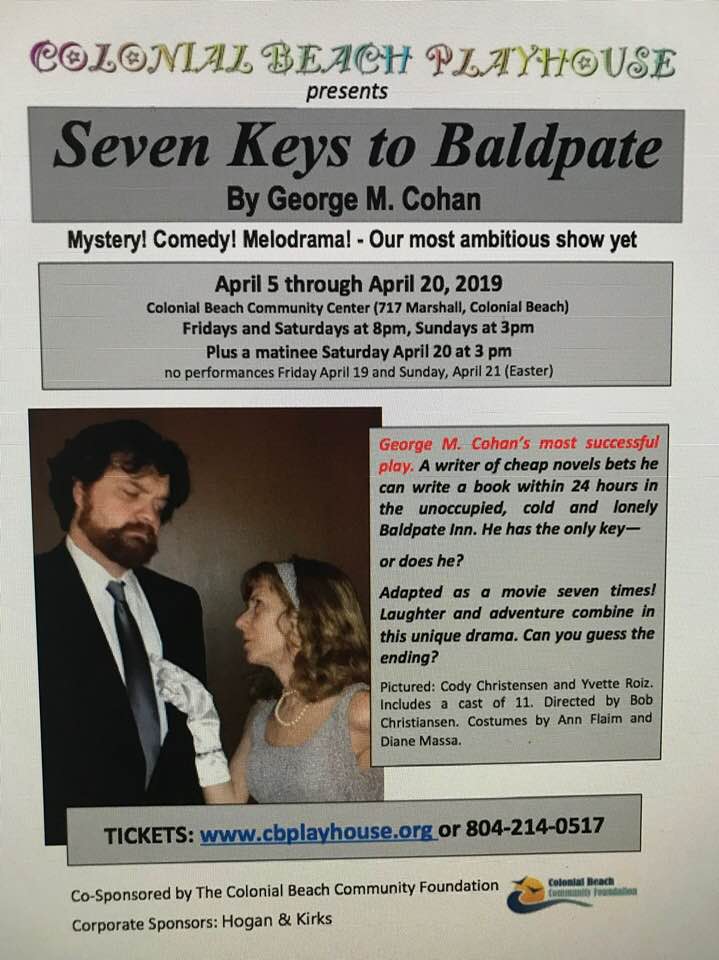 ---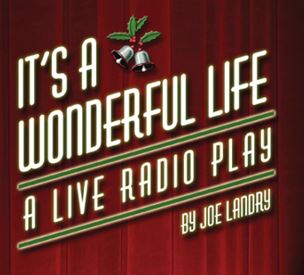 This much-loved American holiday classic appears as a live radio broadcast from the 1940s. 
Nick Zsobota, Mary Larson, Sher Lee and Danny McNamara portray some of the characters in this production which tells the story of the idealistic George Bailey one Christmas Eve.
Showtimes:
Friday, Nov. 30 at 8pm
Saturday, Dec. 1 at 8pm
Friday, Dec. 7 at 8pm
Saturday, Dec. 8 at 8pm
Sunday, Dec. 9 at 3pm
Friday, Dec. 14 at 8pm
Saturday, Dec. 15 at 8pm
Sunday, Dec. 16 at 3pm
---
The Dixie Swim Club was the first production put on by this theatre group. It ran in September of 2018 and starred Sher Lee, Kathi Mears, Lindy Sharp, Mary Ann Tsompanas and Heather Trivett. Most, if not all the performances were completely sold out and garnered rave reviews from the attendees. Bob Christiansen directed and Yvette Roiz  served as Stage Manager. Performances were held at the Community Center.
Be sure to grab some show tickets (they sell like hotcakes!) and catch one of their fun performances.
Colonial Beach Playhouse Box Office (804) 214-0517
email: cbpaa.info@gmail.com
Return from Colonial Beach Playhouse to Things to Do and See