St Patricks Day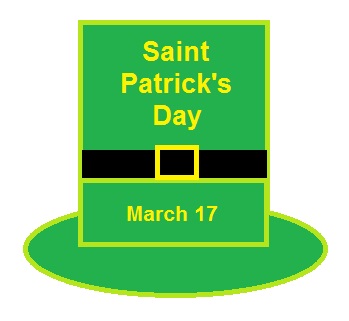 Come and celebrate the St Patricks Day holiday in Colonial Beach. While we don't dye the river green, we enjoy this annual event in many other ways.
St Patricks Day Schedule for 2020
Dockside will be celebrating on Saturday, March 14, 2020 with live music by KleptoRadio (rock, pop, rap) from 8:00 p.m. to midnight. $10 cover charge at the door.
Also on Saturday The American Legion is serving a corned beef and cabbage meal for $10 starting at 5:00 p.m. til gone. The Stumble Foot band will be performing from 7:00 - 11:00 p.m. This event is open to the public. 
Friday the 13th at the High School there's St Patricks Day Bingo to benefit the class of 2021.
Mike McManus (a great Irish name) will be bringing his 1970s themed musical performance to The Lighthouse Restaurant on March 13 from 8:00 - 11:00 p.m. 
Also that night, you'll find live acoustic music by Shree at Colonial Beach Brewing on Washington Ave.
Shree is a solo acoustic guitarist/singer from Fredericksburg, VA. He performs soft rock covers primarily in the style of classic rock but touches upon other genres too from the 1960s to the current. You will feel the warmth, freshness and the vibrant essence of each of these classics as he performs his unique set of acoustic rock covers. Musical influences include Otis Redding, Neil Diamond, Johnny Cash,Elvis Presley, Gordon Lightfoot, Neil Young, Bob Dylan, Bill Withers, Billy Joel, Bob Seger, Bob Marley, Eric Clapton, Beatles, Glen Campbell, Cat Stevens, Jimmy Buffet, Sting, Van Morrison, America, Blind Faith, ELP, Rolling Stones, Santana, Moody Blues, Michael Jackson, Steely Dan, Eagles, CCR, Jethro Tull, Pink Floyd, Bad Company, Men at work, Queen, Simon & Garfunkel, The Who, Alice in Chains, Noel Gallagher, Imagine Dragons, The Dead South, Green Day and more, including some original tunes!

Other St Patricks Day events include Dinner fundraisers like the one held each year at the volunteer fire station building on Colonial Ave.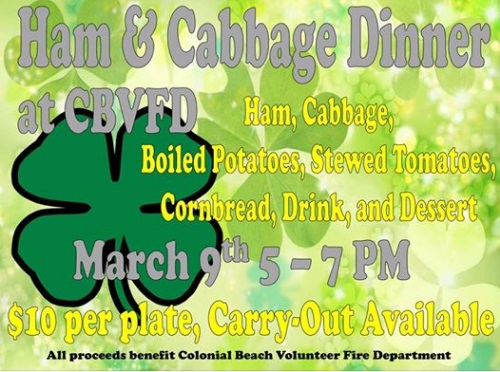 CBVFD's 2019 Fundraiser
Over at Colonial Beach Brewing, they typically hold a St Patricks Day Potluck from noon to 4. Guests are encouraged to bring their best Irish dish to share and there are new beer releases, live music all day and even a 5K Shamrock Fun Run/Walk around "The Point" to start off the day (10am). 
The American Legion post at 27 Colonial Avenue celebrates their birthday that day, so they will typically hold an open to the public event with live music and a dinner consisting of cabbage, corned beef, potatoes and all the fixins for a nominal fee.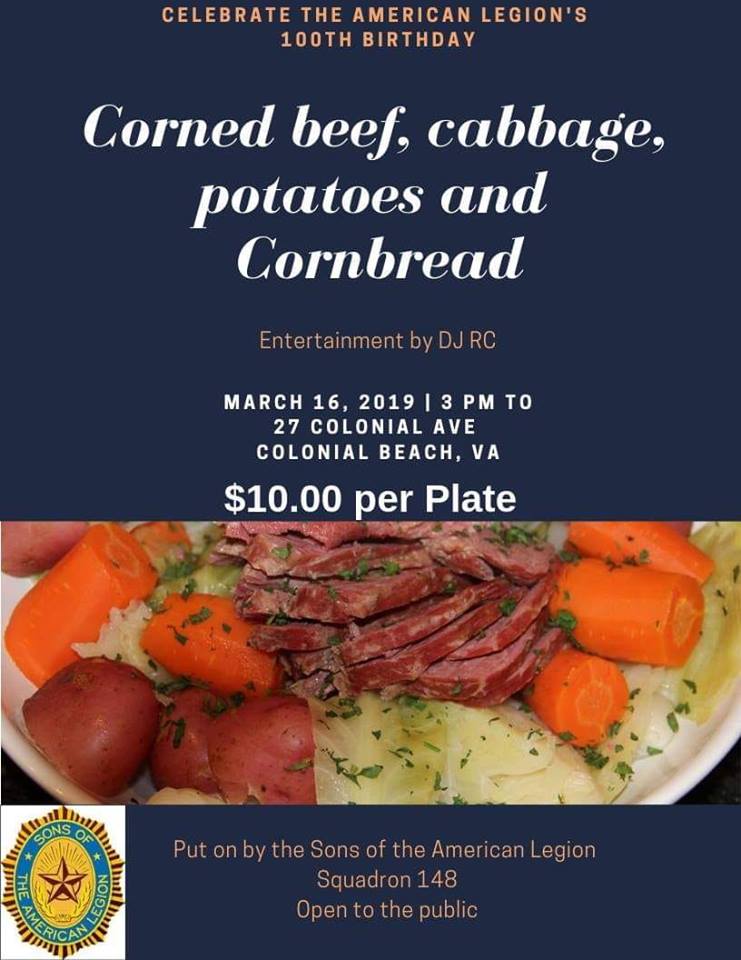 American Legion 2019 Event
The Riverboat on the Potomac restaurant usually serves a corned beef and cabbage dinner for around $13.
High Tides Restaurant and Black Pearl Tiki Bar typically opens back up for the season right around that time of year so there's not usually an event there.
Stay tuned to this page and/or visit our events calendar page for details.
Return from St Patricks Day to the Events page

Return to the Home page