---
Urban Trail Ride

Look for this event to take place again in 2020 on October 25th!
After a year off in 2017, this event returned on October 28, 2018! 11:00 a.m. - 5:00 p.m.
The Still Hot To Trot group came to Colonial Beach for an Urban Trail Ride on November 1, 2015. It was a beautiful Fall day with sunny skies and relatively warm temperatures. The group is a local chapter of the Old People's Riding Club.

The sold-out event saw 50 horses and their riders park and begin at the High School and make their way down the Boardwalk towards "The Point" where they had a nice rest stop at the halfway point in Castlewood Park.
Here's a video clip of the group leaving the park after their break. One horsie wanted some extra camera time!

I absolutely adore horses so I made sure to stop by when they were taking a break to check out these magnificent animals.

This event was a benefit for the Colonial Beach Volunteer Fire Department and it raised over $2,200 towards the roof replacement for the fire station building. 
The urban trail ride was about six miles long and lasted approximately three hours. A police escort led the group through town and bringing up the rear were various accessory vehicles including some ATV's, a small fire truck and a wagon to collect all the "road apples."
The folks were very friendly and a joy to chat with. I was thanked for coming to the event and taking pictures and in return I replied, "Thank you for coming to visit our town!"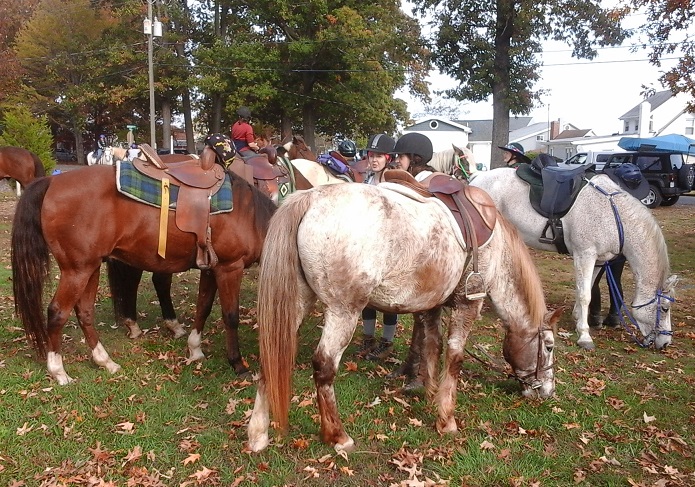 Horses Grazing in Castlewood Park
October 30, 2016 was the date for the 2nd annual event. It took a year off in 2017.
Return from Urban Trail Ride to Events