WiFi Hotspots for online access in Colonial Beach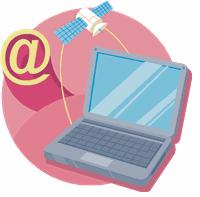 Colonial Beach WiFi Hotspots can be found at the following locations. Some are free and some require a minimal fee.
High Tides on the Potomac restaurant, 205 Taylor St. Coverage is a little slow outside at their tiki bar, but inside it works great.
Central Rappahannock Regional Library - Abraham and William Cooper Memorial Branch 20 Washington Avenue offers 802.11b
Colonial Buzz Espresso Bar, 10 Washington Ave.
McDonald's, 800 Mckinney Blvd. offers 802.11b and 802.11g internet access
Harbor View Campground, 15 Harbor View Circle offers 802.11g WiFi and 802.11b WiFi internet access. Open May thru October.
Dockside Restaurant, and tiki bar 1787 Castlewood Dr.

Ledo Pizza and Pasta, Beachgate Shopping Center

River Edge Inn Hotel, 30 Colonial Avenue
...and many of the vacation rental homes are also Colonial Beach WiFi Hotspots, as are some local Marinas.


Return from Colonial Beach WiFi Hotspots to the Visitor Information page