Boat Ramp at Castlewood Park
I was looking to launch a 22ft pontoon boat at this boat ramp. Is this a good ramp to launch at? Also who do I pay the 10 bucks to for the parking?

Bryan

Katrina's Reply: Bryan, I have only ever launched jetskis from this ramp, so I'm not sure how to answer that question. Perhaps others have suggestions for you. As far as the fee, you pay at the little building next to the parking area.
Construction at High Tides?
What are they building at High Tides?
Good Things Coming To Colonial Beach
by Rick
(119 Hawthorn Street Colonial Beach VA 22443)
Kelsea's Kitchen is proud to welcome a new member to our culinary team. Richard Pietras joins us from the former Willey's BBQ where he served in the position of line cook for the past 5 years. Richard brings a tremendous wealth of knowledge and experience to our kitchen and we are thrilled to have him join our team. He joins Bobby Lee in our kitchen, who was formerly a cook locally at The Lighthouse and Dockside among many other fine restaurants. He also joins Jennifer Kay who was formerly the kitchen manager at Tim's II at Fairview Beach. In addition we are pleased to have Sarah Jo Farley of the former Fat Freda's in the kitchen with us as well. If you are looking for some amazing pork barbecue, BBQ chicken, pork loin, or BBQ ribs, look no further. Not only do we have Richard from Willey's, but we also have Crazy Ray Wells and Glen Smokey Anderson who prepare some amazing BBQ for us that will make your mouth water!!!!!!! So come on down and see us, enjoy some delicious food, and have a cold beverage on our patio right in the middle of Colonial Beach! There's a new spot for BBQ in town and it's right here at Kelsea's Kitchen!!!!
Colonial Beach Observation Deck

(Virginia)
Remains of old steel pier
The Observation Deck in Colonial Beach is at the foot of Colonial Avenue just behind the parking lot at the American Legion. This was once the "old steel pier" but the rusted remains were removed and now this is a beautiful waterside deck area.

Bands performing at Bikefest are scheduled to be set up in this spot for their performances.
Join in and write your own page! It's easy to do. How? Simply click here to return to Colonial Beach Forum.
New Signage at John Wilkes Booth Capture Site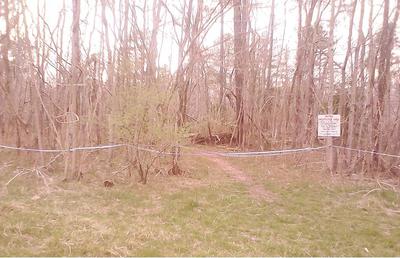 Tape, Chain and Sign at Booth Capture Site
The friendly sign with the hand pointing into the woods towards where the Garrett Farm once was has been taken down and replaced with posts, chain, tape and numerous signs with stern warnings on them.
This new setup could be due to the recent airing of the Diggers: Lincoln's Assassin episode on NatGeo. It could also be due to the capture anniversary, which is coming up on April 26th.
There's a guided tour group that stops here while showing folks the route that John Wilkes Booth and his accomplices took. It's a bummer that the tour group participants will now encounter this most unwelcoming setup.
The signs read: "NOTICE PROTECTED AREA This area is off limits to all unauthorized personnel. Violators are subject to $100,000 fine, imprisonment, and subject to confiscation of possessions/vehicle. Surveillance is conducted. Contact the Environmental and Natural Resources Division 633-8255"
Take heed and don't take any chances. It's already a dangerous place to be, because it is alongside busy Route 301 with cars and trucks whizzing past at high rates of speed.
Join in and write your own page! It's easy to do. How? Simply click here to return to Colonial Beach Forum.
Public parking in Colonial Beach?
by Jen
I'm planning a day trip to Colonial Beach from the Richmond area & I've never been before. Where should I plan to park for the day?

Katrina's Reply: Hi Jen! Metered parking (25 cents per 15 minutes) is available on Irving Ave. and this is right next to the shoreline. There is a parking area where you pay at the kiosk, next to the Riverboat's parking lot. See the kiosk and signs in the lot for rates. Additionally, there is street parking available. Keep an eye on the signs for where to park. It's just a short walk to the water from pretty much anywhere. Enjoy your visit!
Archeological Dig Site at Mattox Creek
Hi,

Saw the youtube story ... couldn't find it? Anyone know where it is? Thx


Katrina's Reply: William & Mary refers to it as the Middle Woodland shell midden site. I believe it is the Mattox Creek Bridge on Route 205. www.youtube.com/watch?v=2hrDAsxXh-Y
Join in and write your own page! It's easy to do. How? Simply click here to return to Colonial Beach Forum.
Beach Volleyball
Are there beach volleyball courts along the water? How many? Are there fees to enter the beach?

Katrina's Reply: Hi! Yes, there is a volleyball net set up on the beach near the lower part of Irving Avenue. There are no fees to enter the beach.
Join in and write your own page! It's easy to do. How? Simply click here to return to Colonial Beach Forum.
Antebellum Sweets cake shop
by Ryan & Chelsey Swisher
(Colonial Beach )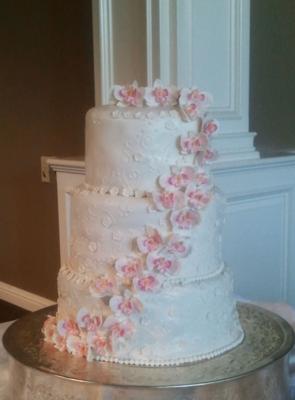 Antebellum Sweets is a new business in Colonial Beach VA coming from MS. we are open for business and handle all events such as parties, office events, weddings, or just because. email us Antebellumsweets@gmail.com or find us on facebook.

Katrina's Reply: Welcome to the Beach! Thanks for the information and the photos. The cakes look just beautiful.
Sweet tea stand with big inflatable tea on top?
by Lillie
(Mississippi)
We were at Colonial Beach for the jet ski watercross race. My daughter met the nice young guy who was working at the sweet tea stand but forgot to exchange contact info. Does anyone know how she could find out?
Join in and write your own page! It's easy to do. How? Simply click here to return to Colonial Beach Forum.