Here's your one-stop shop for a Colonial Beach wedding. Below is a listing of services and vendors available in our area to make your special day memorable. Many have tied the knot here in our town alongside the beautiful Potomac River. After all, what could be more wonderful than a beach wedding?
Catering
Denson's Grocery
Ledo Pizza & Pasta 804-224-5336

Kittrell's Firehouse Chicken & Ribs 540-295-3886 https://kittrellsfirehouse.com
Tides Inn Market Chef Caitlin Davis

Disc Jockey/Music
Will Sommer e-mail: hogwill@verizon.net
Out of Sight DJ Service 804-224-1015
Michael Burke Entertainment michaelburkeentertainment.biz
Encore Entertainment http://encoredjentertainment.com
Tidewater Entertainment http://www.tidewaterentertainment.com
Mobile DJ Service, Michael "Hatch" Hatcher 540-760-8927

Flowers
Four Seasons Florist, 420 Colonial Ave, 804-224-9020 http://www.flowersforthefourseasonsva.com

Invitations, Programs
Mobile Tax Bookkeeping & Printing, 420 Colonial Ave. 804-224-8454 

Jewelry
closed April 2016 - visit their eBay store "grandmas jewelry box cb"
Grandma's Jewelry Box 

License
Colonial Beach Town Hall 804-224-7181

Limo/Transporation
Cruizin' The Ritz 804-224-LIMO (5466) 
It's possible that the Town Trolley may be available for transportation. Contact Bay Transit at 877-869-6046 

Lodging
Bed & Breakfast Inns
Hotel/Motel
Cabins
Cottages and Bungalows

Minister
Rev. Larry Crawford 804-214-9144
Bryce Hall - Wedding Officiant 804-240-3631


Photography
TaPs Creations 540-419-2496
Trew Photography
Katie Nesbitt


Venue


Colonial Beach Community Center 717 Marshall Ave. Book online

Dennison Street Inn Bed and Breakfast

Ferry Landing Pier has a Gazebo and an open space mid-pier for tables and chairs. 804-224-4200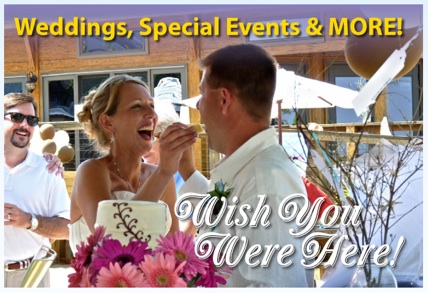 High Tides on the Potomac Restaurant and Tiki Bar (see photo above)

Hunan Diner 804-224-8754 has a Banquet Room with 60-person capacity.
 
Ingleside Winery has a beautiful courtyard. I have attended a wedding here and it was marvelous.

Lighthouse Restaurant has an upstairs Banquet Room with wonderful Monroe Bay views.
 
Placid Bay Estates Community Center, Mattox Ave., Colonial Beach 
RENT THE CLUBHOUSE AND PAVILION COMPLEX ON BEAUTIFUL MATTOX CREEK! The community center and pavilion is available to rent for Special Occasions. The Building, Deck and Pavilion can accommodate most large groups. Please contact John Settlemyer at 804-505-0076 (PBCE Phone) 
Monroe Bay Winery has a 3,000 square foot strawbale barn on the waterfront.
Riverboat on the Potomac has a beautiful large upstairs room (350-person capacity) with stunning views of the Potomac River.

Stratford Hall Plantation 804-493-8038

Westmoreland Shores Community Center http://pwscc.org/ccenter.html
Westmoreland State Park has their Helen & Tayloe Murphy Hall available for weddings.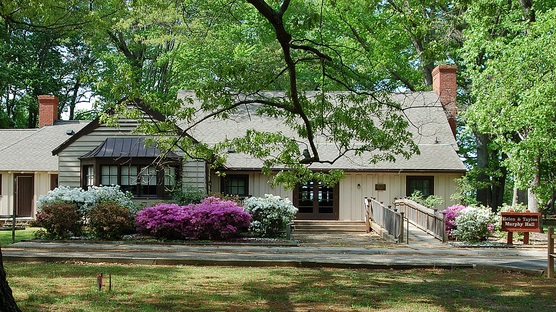 Helen & Tayloe Murphy Hall
Wilkerson's 804-224-7117 is a waterfront restaurant with a separate Banquet Room  www.wilkersonsseafoodrestaurant.com

Return from Colonial Beach Wedding to the Activities page
Return from Colonial Beach Wedding to the Home page