Activities for Kids in Colonial Beach
Come take part in the many activities for kids that exist in the Colonial Beach area. There's a good mix of "edutainment" here for the young ones so they can have fun and get an education at the same time.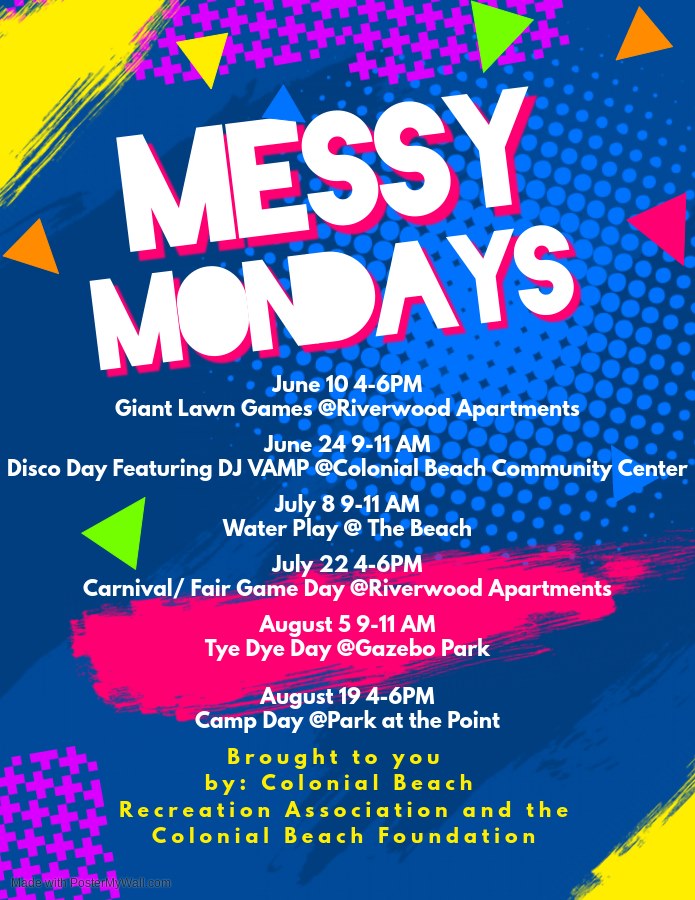 Messy Mondays beginning June 10, 2019! What is it, you ask? Family-oriented, community building days to get out and play! All are invited! Come show your support for Colonial Beach and our Youth! Colonial Beach Foundation and Colonial Beach Recreation Association are the organizers of these events.
June 10
...
June 24
...
July 8
...
July 22
...
August 5
...
August 19
The BAMM Group (Beach Arts Music Mentoring) is doing a great deal of work to enhance learning experiences of our local children. 
Paint a rock, hide it in town, snap a picture of it and post it on the Colonial Beach Rocks facebook page.

Pinball wizards can hone their craft at the arcade room at the Riverboat. There are also some video game consoles here.
The Library hosts numerous events just for the little ones including story time, movies and crafts. They also hold seasonal events like Halloween parties.
The Community Center is working towards holding activities for kids including after school programs, music lessons, concerts, plays, puppet shows and more. Volunteers are needed to help make this happen. Contact the Colonial Beach Foundation.

Kids can go swimming in one of the area pools, or fish from the Town Pier. They can also learn to sail with the Sea Scout Ship. If the kids are interested in motorsports, there's cool drag racing action at the Dragstrip. For ball sport fans there's sometimes an annual Drifters Basketball Camp at the High School annually in July.
Many area churches have youth groups which feature many exciting things to do as well as opportunities to volunteer.

Sports

The Torrey Smith Recreation Park held its Grand Opening celebration on July 16, 2019 and is a hit with both kids and adults alike!
Colonial Mini Golf was located between Denson's and Suki restaurants on Washington Ave. It is now at Washington Ave. Park.

History
For a history lesson, you can bring the kids to the birthplace of President James Monroe. Here, you'll find a Visitor's Center building as well as many monuments and markers. One of my favorite artifacts is the replica of the coat he once wore. It is just stunning! Call ahead as while the main part of the site is open seasonally beginning in late April for his birthday celebration, you can still access the monuments and markers year-round.
The George Washington Birthplace National Monument has many scheduled events throughout the year which are kid-friendly. Keep an eye on our events calendar for the dates and times. At this location is a working colonial farm so there are animals, a blacksmith shop and the most impressive feature in my opinion is the outline of the foundation of the house that George Washington was born in. There are a couple of hiking trails and if you pack a lunch you can have a picnic on the grounds overlooking the water. The picnic area has nice tables as well as restroom facilities. Just down the path from there is a sandy beach which is both kid and leashed pet-friendly. Note: Collecting items from the beach is illegal and carries a steep fine since it is a national park. 
Point out to the kids as you're driving down Route 301, the signs telling of the capture of John Wilkes Booth, the assassin of President Lincoln. It's not a good idea to stop the car and examine the site, as it's right on the main road with cars whizzing by.

Arts & Crafts
The Library has regular crafting opportunities.
Nature
The Westmoreland State Park offers many activities for kids during the year, including movie night, nature hikes, fossil hikes and other nature-related educational programs. Kids will love the big Olympic-sized swimming pool and beach and the whole family can camp out in a tent, RV, rustic cabin or the swanky Potomac River Retreat.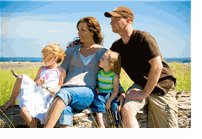 Voorhees Nature Preserve is great for easy hiking and bird watching and it's right next door to the Westmoreland Berry Farm which features a "goat walk" and things like a pumpkin patch in season. They have a great Snack Bar with smoothies, ice cream, strawberry shortcake and other similar items. More of their activities for kids are listed on our events calendar page.
Stratford Hall Plantation offers great hiking trails with stunning views of the Potomac River. 
Fossil hunting - find ancient shark's teeth
A giant, former state record holder Cherrybark Oak tree can be seen on Ball Street in town. The story of the tree can be found in
this book
.
Parks, Playgrounds and Beaches
Washington Avenue Park is right next to the former Colonial Beach Elementary School. There's some nice playground equipment here, and a cool gazebo the parents can have a seat in while keeping an eye on the kids. Directly across the street from here is Nancy's Ice Cream stand (now The Pink Poodle) where a cool treat awaits after a hard day of play.
The public beach in town features a swing set, right near The Riverboat and plenty of sandy beach, stretching all the way down to The Dockside Restaurant where on the way there's a great sandy area with a volleyball net.

Near Dockside and the Yacht Center you'll find Castlewood Park featuring a great playground area, picnic tables and a beautiful view of Monroe Bay.
Festivals, Fairs and Events
The Potomac River Festival takes place during the 2nd weekend in June every year and features a carnival, parades, a pet parade and more.
2015 saw the first annual Waterfest on Town Hill with fun water slides, games, pony rides and more.
Annual Activities for Kids
April: Easter Egg Hunt on Town Hill
May: Back to the Beach Bash
June: Carnival at the Potomac River Festival
July: Basketball Camp at the High School
October: Fall Festival and MANY Halloween events and activities for kids around town. Trick-or-treating from 5-8pm.  
December: Winter Festival, Christmas Parades and more!
Return from Activities for Kids to Things to Do & See